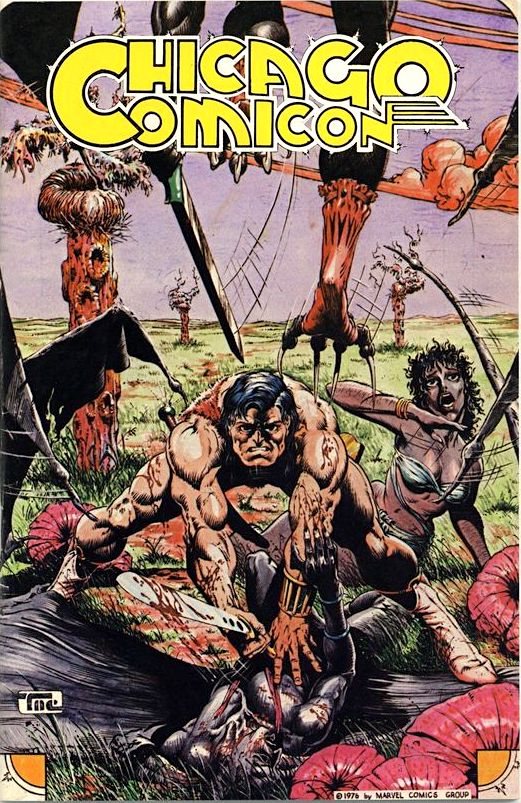 The first time I saw Stan Lee was at Chicago ComicCon in 1976.
I was living in Albuquerque, New Mexico, and the first major Comicon in the Windy City (slated for August of that year) was enough to get me on Amtrak for the multi-day journey to Chicago. The train left from the old Alvorado station, where the nearby Alvorado Hotel had been torn down only a few years earlier. At that time, the station was a dusty stretch of open rails that ran behind the West side of Broadway. Not the kind of place you wanted to hang around in the middle of the night.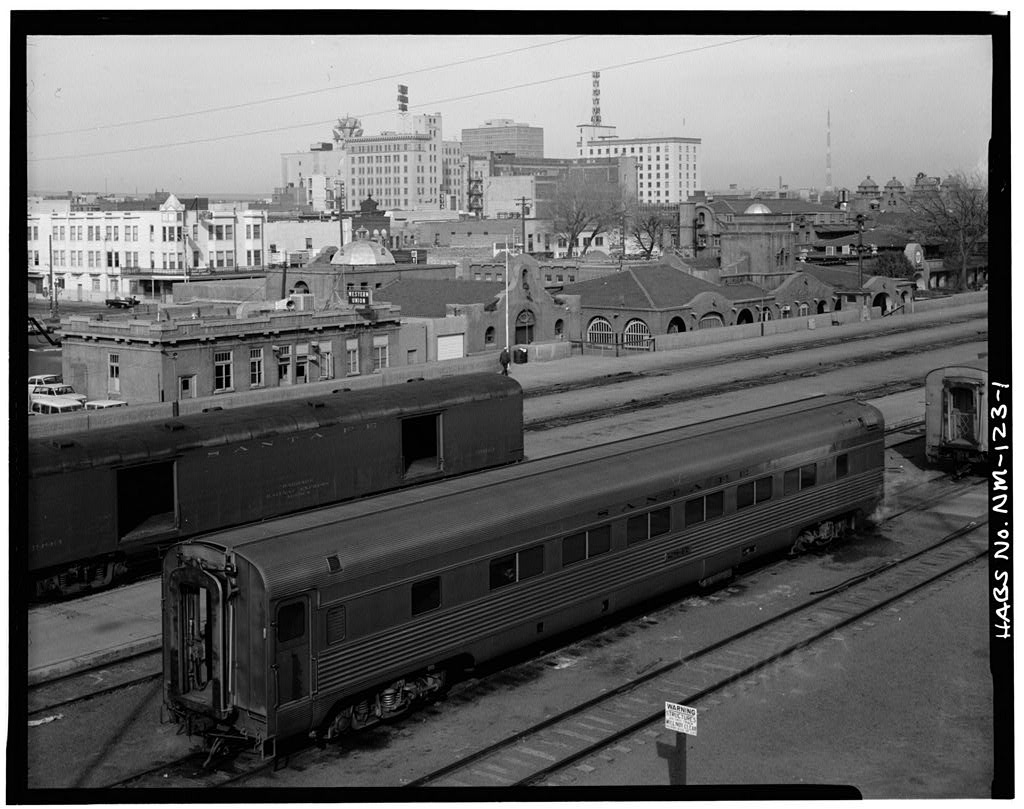 The train trip was a bucolic, stop-and-go ride up through Colorado and down across a huge stretch of grassland in Kansas and Missouri. Lost in the middle of nowhere, the train spent many hours stopped under the stars, or just sat on the tracks surrounded by miles of wheat and alfalfa waving in the wind. When we finally reached the outskirts of the city, we spent many more hours waiting for the signal that cleared us into the station. It was like a miracle to finally reach Union Station in Chicago a full twenty hours later than the scheduled arrival time.
The venue of that historic comic con was Playboy Towers. In between the heady atmosphere of the dealer's room and the talks by various comic book personalities, the attendees could spread out in the lobby, ogling the Playboy bunny hostesses in their bunny outfits.
Chicago Comicon was the big time! It wasn't anything like the comic swaps of Phoenix and Albuquerque, where people knelt on the floor of karate dojos to go through boxes of raw books. Chicago Comicon was like being in another plane of existence. It was swanky. It was over the top.
In many ways, you really couldn't get any better than that con. They'd flown Stan Lee in, who was by then Publisher of Marvel Comics, having relinquished the Editor-in-Chief role to Roy Thomas. He was in his rise to fame period, and he had a sort of rock star attitude about the famous characters that he helped to create. I remember him describing how he hoarded the writing duties of Silver Surfer for himself, because he loved the whole Galactus / Surfer story so much. I was just reading the original eighteen issue series for the first time, and listening to Stan rave about the origins of Norrin Radd on the planet Zenn-la was heady stuff.
You save your own planet, only to doom another!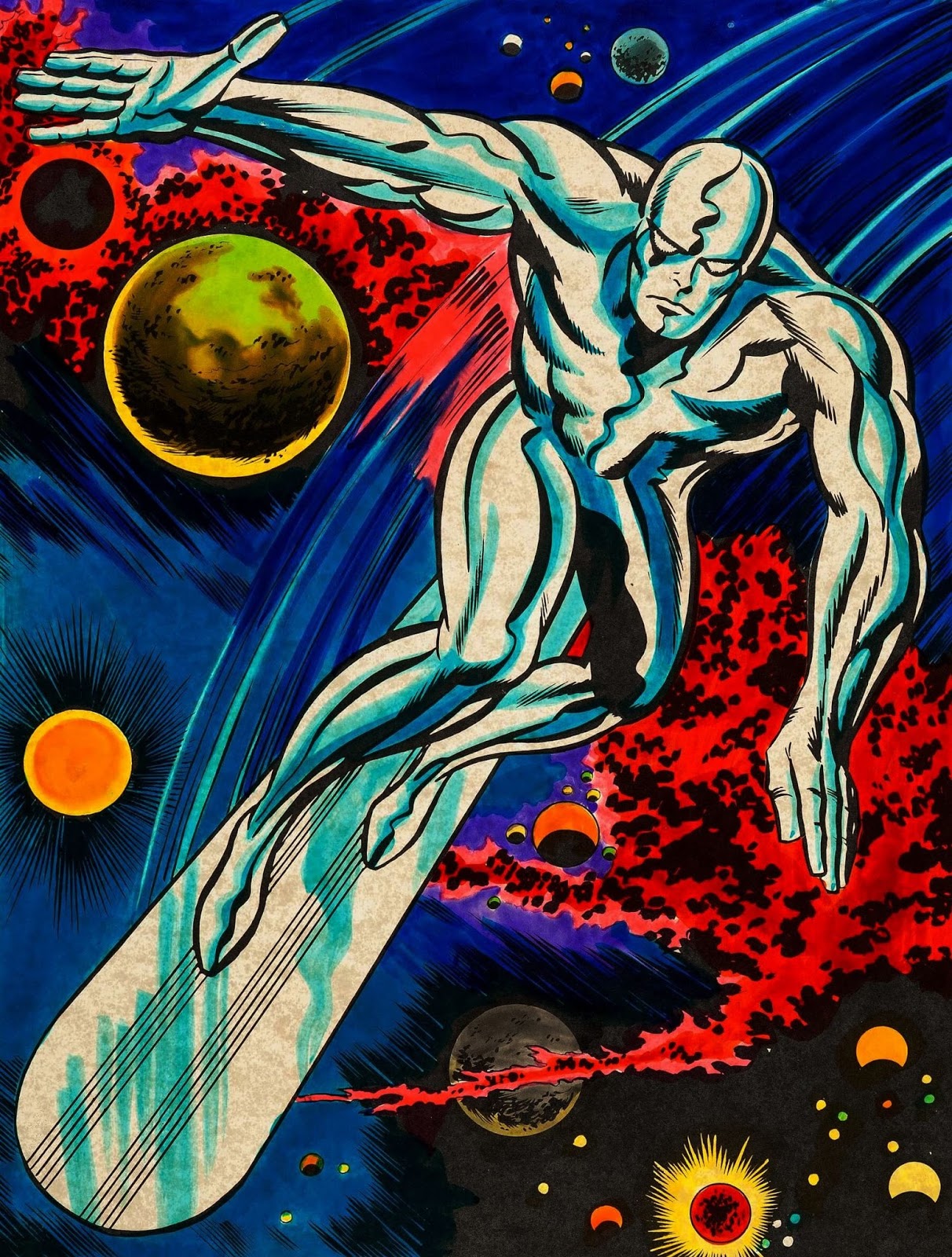 Also attending was the newly-hired publisher of DC comics, Marvel's arch-rival in the industry. Jenette Kahn was no slouch, having made a big splash as the founder of Scholastic's Dynamite magazine, and she eventually became the company's President. At a time when Stan Lee was riding high on the fame of his pop-art 1960s successes, Kahn hit the ground running to re-invent National Periodicals as DC Comics.
There was a terrific panel session that Mike Gold moderated with Jenette Kahn, Stan Lee, and Harvey Kurtzman that has been transcribed in the book Stan Lee: Conversations. You can get a feel for the depth and range of what the con was like from that session. Kurtzman played the devil's advocate and complained that it was the comic book publishers who had no inspiration. Lee and Kahn argued strenuously about the costs and great work being produced. It got pretty heated.
Chicago Comicon was also my first experience of meeting professional comic book artists. Tim Conrad, whose Conan-esque cover art for the program book was astonishingly good, gave a terrific talk about his methods and how he learned to draw. He introduced me to Harold Speed's The Practice and Science of Drawing, which became my illustration textbook for many years.
The dealer's room was stacked with books and original art. If only I was rich, I could have snapped up original ECs for $15 a piece! If only…
At the fundraiser art auction, the highest priced item was an original page of Barry Windsor Smith artwork for Doctor Strange. It sold for $ 125.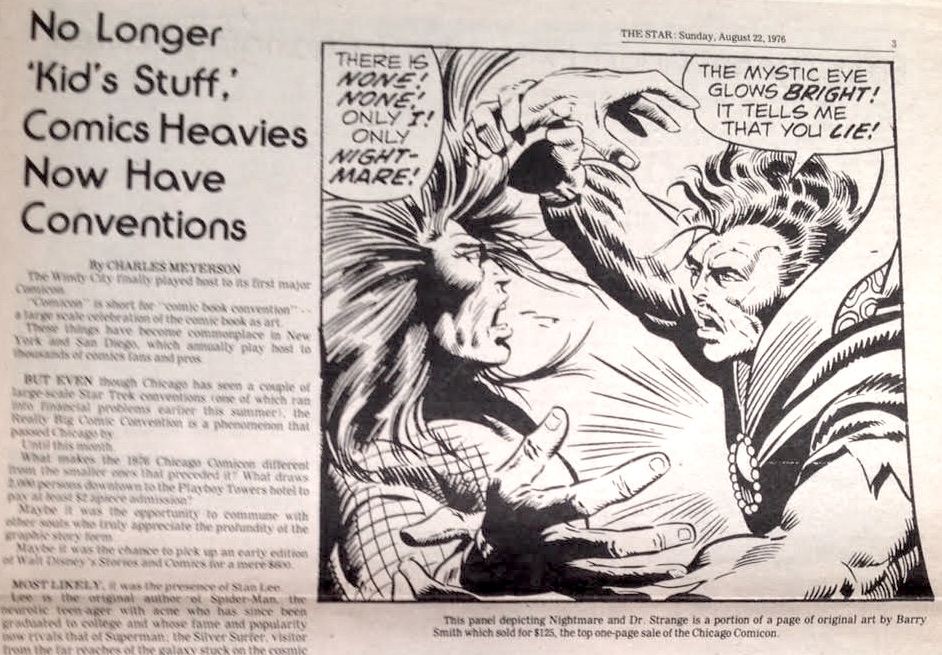 One panel of that Doctor Strange page was shown in The Star Newspaper article about the convention. In the panel we can see Doctor Strange battling with Nightmare. Said Strange: "The Mystic Eye glows bright! It tells me that you lie! "
This, in fact, can be easily tracked down to Marvel Premiere #3 (Apr 1972), interior page 17.
If you tried to find a single piece of original art like this today, pages from the same issue of Marvel Premiere cost upwards of $10,000.
Also in attendence were the wild underground artists local to the Chicago area. At that time, Jay Lynch and Skip Williamson lived in Chicago, and Dennis Kitchen lived nearby in Milwaukee. Watching them doodle and draw in sketchbooks, live, in front of everybody wandering around the dealer's room really blew me away.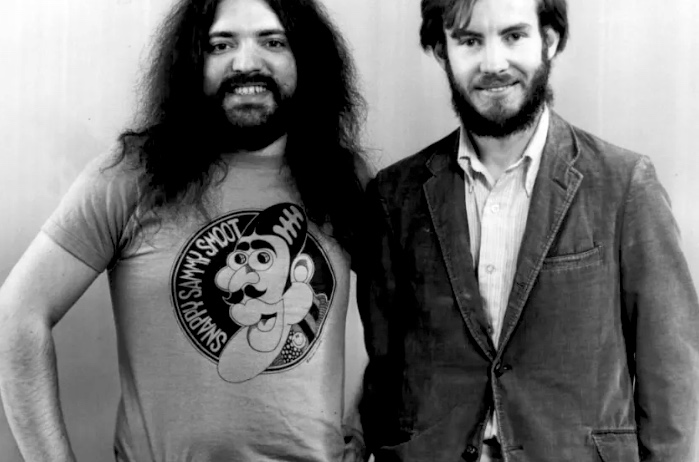 I'd grown up around artists, mostly people from the Art Institute in Chicago. Down in Albuquerque, it seemed like everybody in the UNM ghetto area was an artist or writer of some kind. But these people at Chicago Comicon were different! These guys were scribbling away in wire bound tablets or drawing directly onto sheets of bristol board. The figures and the dialog they were cranking out would actually appear in the pages of Bijou Funnies or Snarf Comics.
If I hadn't met Skip Williamson and saw him doodling in his sketchpad, I doubt if I would have started to read his character Snappy Sammy Smoot. I'm so glad I did, since Snappy Sammy is one of true originals of underground comix.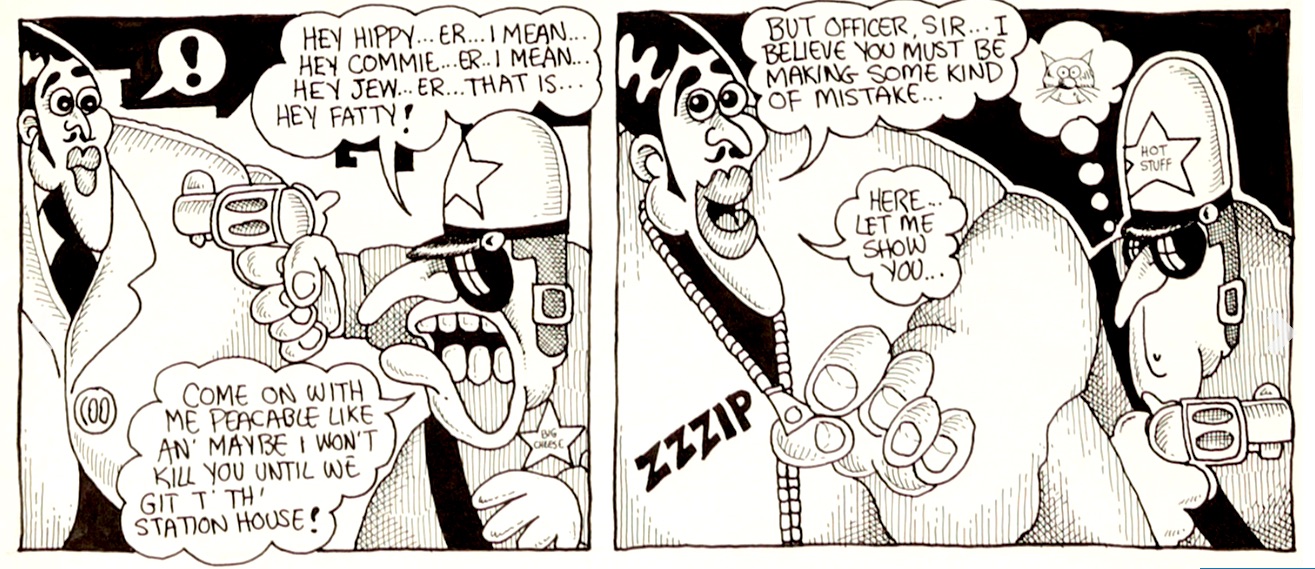 Denis Kitchen was doing much the same thing, doodling on a big spiral sketchbook. I thought he looked like the typical college grad of the mid-1970s. Little did I know that he would go on to establish the Comic Book Legal Defense Fund fifteen years later!
Watching these young artists at work, you had to admire their intense energy. I sensed that just doing it, just writing and drawing your own stuff was a bold act of self affirmation and self realization. There they were, drawing right under the gaze of Stan Lee and Jenette Kahn. They were creating stories that could never be published by either Marvel or DC in a million years. It was bravado, defiance, lunacy… and I loved it!
In subsequent years, I often saw comic book artists working in the midst of cons or other crowded venues. The way they could sketch in pencil or lay down perfect lines of ink with sable brushes or rapidographs right in the middle of a noisy crowd was like watching a magic act. It was like watching Harlan Ellison typing a short story in the department store window. How could the artists concentrate and make those perfect strokes panel after panel? How could they do that! Chicago Comicon was my first experience of witnessing those wild engines churning out sequential art.
It was a few months later, back in Albququerque, when I got wind that Stan Lee was going to visit my home town. The University's Daily Lobo Newspaper featured an advertisement for the Associated Students of UNM speaker series. The Dynamic Stan Lee was going to appear in the Student Union Building Ballroom and speak about "Comic Books and the World About Us." That was going to be an amazing night!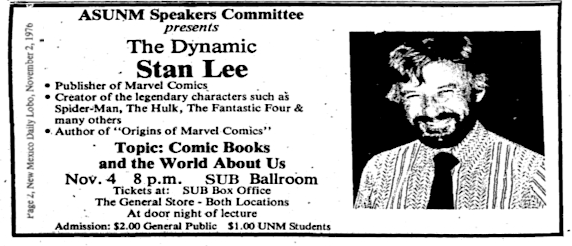 Tickets were on sale, not only at the SUB ticket office, but also at The General Store, which was a head shop near the corner of Mesa and Central. The General Store sold psychedelic posters – some of them featuring Marvel comics characters – and they had an air-hockey table in the middle of the poster display room. When you put a quarter in the machine and the hum of the air compressors kicked in, you then flipped the light switch from flourescent to black light. Then the whole air-hockey table disappeared when the room was plunged into darkness. The only thing you could see were those shocking pink and green posters on the walls and that flat plastic puck zipping around at a thousand miles an hour as if in mid-air!
I don't remember which of my comic-collecting friends went with me to see Stan Lee. Probably Calen Ellefson and Sam Howarth. My recollection is that the ballroom was only partly full. Maybe a hundred or more people came out to hear Stan the Man that night.
Stan Lee carried on with his usual aplomb. He regaled the crowd with stories about the creation of Spiderman, the Fantastic Four, and Daredevil, and how his big innovation was that super-heroes, whether they be adults or troubled teenagers, are all struggling with hang-ups. Everybody has their quirks, their fears, their frustrations. And life is a great big hang-up! Isn't it?
The question and answer session was pretty lively as I recall. People wanted to know everything about the Marvel Bullpen and what various creators were like. They wanted to hear about Steve Ditko and Jack Kirby and John Buscema and Johnny Romita. It was the year of the Presidential election, and Marvel Comics had their own duck in the race. Howard the Duck was nominee of the All Night Party, and the night that Stan Lee was speaking at the University of New Mexico was November 4th, just two days after the election. The count was in: Howard lost.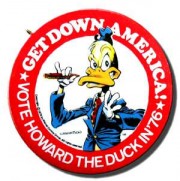 I remember asking about Bill Everett and the origins of the Sub-Mariner. I was doubly disappointed by Stan's response. First, he pronounced the superhero's name Submariner, with the emphasis on the letter i and pronounced as a long e. "Sub-mareener" is what it sounded like when Stan said it. But I thought it should sound like Marin in Marin County, California. I pronounced it with the accent on the letter a like Like Coleridge's Rime of the Ancient Mariner. Not Mareeener!
Even worse, Stan said that Bill Everett based the character's name on Roman backwards: Namor. He said that it was pronounced Namor, with the accent on the first syllable, a long a like a gamer. But I'd always pronounced it with a soft a and the accent on the second syllable, the o in Namor, so that it would rhyme with Zsa Zsa Gabor.
So much for my imagined pronunciations! But forty-eight years later, I still pronounce them like Marin County and Zsa Zsa Gabor anyway. With my apologies to the great Bill Everett.
So that is the tale of how I happened to meet Stan Lee twice in 1976. Once in the Playboy Towers of downtown Chicago, then again at UNM's Student Union Building.
---
references:
Kitchen, Dennis. The Oddly Compelling Art of Dennis Kitchen [Dark Horse, 2010]
McLaughlin, Jeff. "Jenette Kahn, Stan Lee and Harvey Kurtzman Discuss Comics with Mike Gold" in Stan Lee: Conversations University Press of Mississippi (2007) link
Myserson, Charlie. "Comics No Longer Kid Stuff, Comics Heavies Now Have Conventions," in The Star Newspaper, Chicago, Aug 22nd 1976. link
New Mexico Daily Lobo, November 2nd (1976) p.4
O'Donnell, Maureen. "2 key figures in underground comics with Chicago ties have died," Chicago Sun Times (2017-03-20)
Place, Ryan. "Exclusive Interview: The Comic Book Wizard of Ypsilanti, GEORGE HAGENAUER," Detroit Bookfest Mar 9th (2019) link
Speed, Harold. The Practice and Science of Drawing (1913)
Williamson, Skip. "Sammy Gets Fat" in Bijou Funnies #4, Print Mint, (1970)