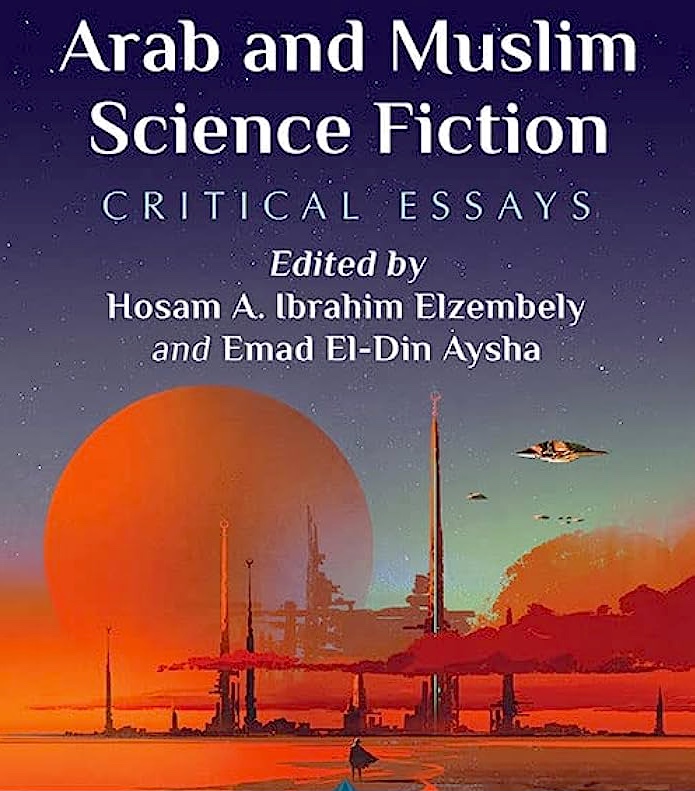 Arab and Muslim SF: Critical Reviews
McFarland (2022) 396p.
pbk ISBN: 978-1-4766-8523-6
ebk ISBN: 978-1-4766-4317-5
About the Editors
Hosam A. Ibrahim Elzembely is an accomplished science fiction author with three novels to his name and seven edited volumes of short stories published on behalf of the Egyptian Society for Science Fiction (ESSF). He is the director and founder of the ESSF and is also a medical practitioner and associate professor of ophthalmology, Faculty of Medicine, Minia University, Egypt. He lives in Cairo, Egypt.
Emad El-Din Aysha was formerly an adjunct assistant professor at the American University in Cairo. Currently he is a freelance journalist, translator, academic researcher and science fiction author with one anthology to his name, and a member of the ESSF and its chief translator. He lives in Cairo, Egypt.
Contributors
Hosam Elzembely
Marcia Lynx Qualey
James E. Gunn
Kawther Ayad
Faycel Lahmeur
Abdulhakeem Amer Al-Tweel
Ahmed Salah Al-Mahdi
Emad El-Din Aysha
Mouad Bouyadou
Zayan Guedim
Taleb Omran
Jeremy Szal
Fadi Zaghmout
Mohammed Abdullah Alyasin
Zahra Jannessari-Ladani
Ibrahim Al-Marashi
Noura Ahmed Al-Nouman
Abdulwahab Al-Rifaee
Farkhondeh Fazel Bakhsheshi
Naif Al-Mutawa
Wajdi Muhammad Al-Ahdal
Manar Al-Hosni
Harun Šiljak
Gamze G. Özfırat
İsmail Yamanol
Shamil Idiatullin
Hamid Ismailov
AbdulWakil Sulamal
Müfit Özdeş
Funda Özlem Şeran
Saqib Sadiq
Sami Ahmad Khan
Muhammad Aurangzeb Ahmad
Moussa Ould Ebnou
Mame Bougouma Diene
Rafeeat Aliyu
Ashiru Muheez Afolabi
Amir Tag Elsir
Azrul bin Jaini
Riawani Elyta
Aditya Nugraha Wardhana
Kristine Ong Muslim
Rebecca Hankins
Barbara Dick
Areeg Ibrahim
---
Countries by Region
NORTH AFRICA
Egypt, Tunis, Algeria, Libya, Morocco
LEVANT
Syria, Lebanon, Jordan, Palestine
GULF
Iran, Iraq, UAE, Kuwait, Yemen, Oman
EUROPE, RUSSIA, CENTRAL ASIA
Bosnia, Turkey, Russia, Uzbekistan, Afghanistan
SOUTH ASIA
AFRICA
Mauritania, Senegal, Nigeria, Sudan
FAR EAST
Malaysia, Indonesia, Philippines
---
Illustrators
Ammar Al-Gamal (Egypt)
Yahya Salah Abul Ghait (Egypt)
---
Where to Purchase