What a curious thread unraveled from reading the scanned issue of Telepath #1 on eFanzines this weekend. The fanzine, originally published by Arthur Haddon in Dec 1951, provided some tidbits of information about Australia's first (if short-lived) SF pulp, Thrills Incorporated. This pulp was created by Stanley Horowitz' Transport Publications following the the success of the weird mystery pulp, Scientific Thriller which appeared in 1948. Thrills Incorporated appeared in March 1950 and lasted for a total of 23 issues, ending in June 1952.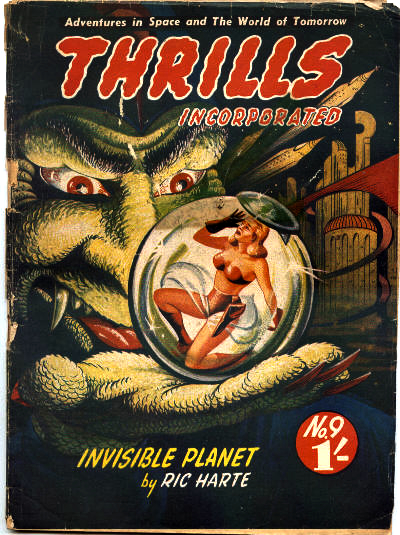 In the pages of Telepath, one of the Sydney Futurian Society fans, Vol Molesworth (1924-1964), interviewed the editor of Thrills Inc which helped to "clear up a number of points that fans in Australia and abroad had been debating." This may have been a reference to a series of plagiarisations that took place in the first year of Thrills issues. As the editor, Alister Innes, confessed to Molesworth, "In the early issues we were hoodwinked by certain unscrupulous writers who plagiarised American SF stories without our knowledge. As soon as this was pointed out by our readers, we sacked those writers. Our present day policy is to give an author a title and an illustration and get him to write a story around them."
What a curious way to run a magazine! On the other hand, there might have been no way for the editors to have known that the stories were plagiarized. According to Garry Dalrymple (via email), foreign science fiction magazines were treated as contraband in Australia between 1940 and 1950. As prohibited imports, issues of SF mags were discovered during routine inspection of the mails, and returned to sender. This quarantine resulted in a market for locally printed SF pulps of questionable quality. At that time, said Dalrymple, just about the only new stuff getting through to Sydney (and the Sydney Futurians) were gifts from Forry Ackerman!
On the quality of production that went into those opportunistic Australian SF pulps, one author put it this way: "Very often, when the editor (Innes) was running to a tight schedule he would have the artwork already done and hand you a picture, saying 'Three thousand worlds and a title, old boy, and I do need them by Friday." One picture he gave me didn't allow a lot of scope as far as the title was concerned, I thought, so I called it 'Jet-Bees of Planet J'. He took another look at the picture when I brought in the manuscript, then looked at the title again 'See what you mean, old boy'. He nodded approval. "Sort of self-propelled by their own farts.'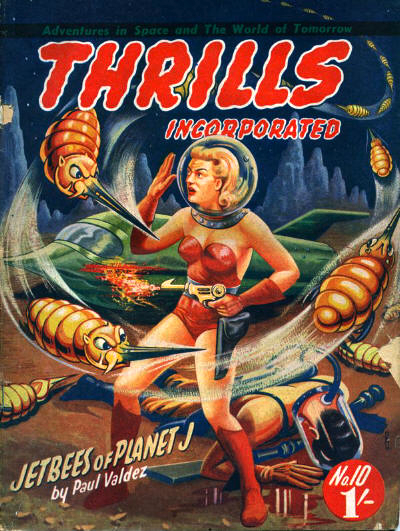 This writer, happened to be Alan G. Yates, who quickly became famous for writing a series of mystery stories under the name Carter Brown.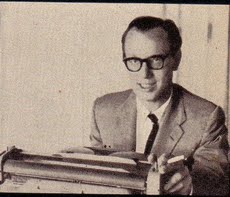 The passage quoted above comes from Yates autobiography, a summary of which appears online:
"Carter Brown is the pseudonym of Alan Geoffrey Yates who was born in London and educated at schools in Essex. From 1942 to 1946 he served in the Royal Navy as a lieutenant. After the war he worked as a sound recordist at Gaumont-British Films for two years and then moved to Australia in 1948. That same year he became an Australian citizen. Before deciding to write exclusively in 1953, Yates was a salesman in Sydney and a public relations staff member at Quantas Empire Airways. His early books were intended for Australian audiences, but when the Carter Brown series was picked up by the New American Library, he was discovered by Americans. Yates wrote crime, horror stories, and westerns under the pen name of Tex Conrad. For the magazine Thrills Incorporated he co-wrote tales with G.C. Bleek, but his major work in science fiction was Coriolanus The Chariot!, a story about illusions, paranoia, and a toxic game.
Soon Yates started to concentrate on crime fiction, producing a flood of books: in 1953 he published Venus Unarmed, The Mermaid Murmurs Murder, The Lady is Chased, The Frame is Beautiful, Fraulein is Female, Wreath for Rebecca, The Black Widow, Weeps, and The Penhouse Passout. In 1958 he published a novel under his own name, The Cold, Dark Hours, and in 1966 he penned the first novels written as Caroline Farr. Under the name Carter Brown, Yates wrote about 150 crime stories between 1953-68, which sold in the tens, perhaps hundreds of millions of copies."
See: Ready When You Are, C.B.! : The Autobiography of Alan Yates Alias Carter Brown
Other Thrills Inc writers worthy of mention include Gordon Clive Bleeck, who seemed to be quite a character himself,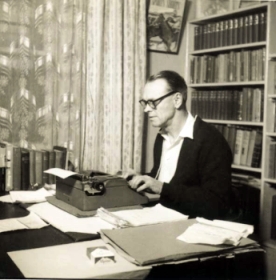 and the inimitable Norma K. Hemming, for whom an award has been created by the Australian Science Fiction Society, and will be awarded for the first time at the Worldcon 68 (Melbourne) in 2010!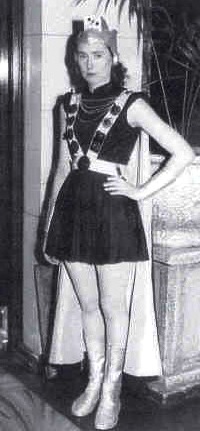 Thanks to the late Forry J. Ackerman & datajunkie, you can download Thrills Inc #17 to read the full text of Hemming's Amazons of the Asteroids. And here is the amazing interior illustration by R. T. Cavanagh: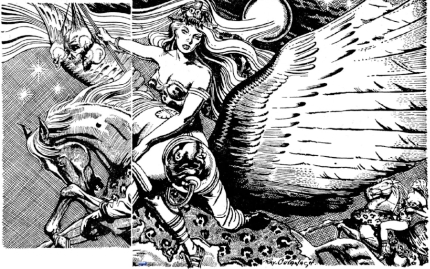 Most of the writing was done under pen-names, such as Paul Valdez, Ace Carter, Roger Garradine, and Bella Luigi, and has been described variously as "just bearable to quite unreadable" (Blackford, et al). One of the original contributors to Thrills Inc summed up the situation for Australian SF pulps at that time: "At their worst publishers neither knew nor cared what science fiction was all about or what readers expected, and yet somehow expected the suffering public to support their miserable apologies for magazines." (Graham Stone, as quoted in Blackford, et al, p. 65)
Although the writing was considered second rate, some of the cover illustrations were eye-catching, which is the only reason for this blog entry, as you may have surmised. These covers included work by T. Brand (issues 1 - 12), Ray T. Cavanagh (issues 14 - 17), and two excellent covers by Stanley Pitt (issues 21 and 23).
And now we present the entire set of covers…enjoy!
Textual Sources:
Alan Yates, "Ready When You Are, C.B.!" Melbourne: Macmillan, 1983.
Russell Blackford, Van Ikin, Sean McMullen, "Strange constellations: a history of Australian science fiction." Wesport: Greenwood Press, 1999
Wonder Down Under: Australian Sci-Fi 1948-52.
Image Sources:
Galactic Central - Phil Stephensen-Payne