Traveling to Chicago in the winter you expect snow, ice, and bitter gray skies. We had mild temperatures and lots of sunshine!
One day at Half Price Books, I picked up the UK Granta edition of Elif Batuman's The Possessed, and also a copy of Franz Kafka's Paradoxes and Parables, in the 1961 Shocken paperback edition.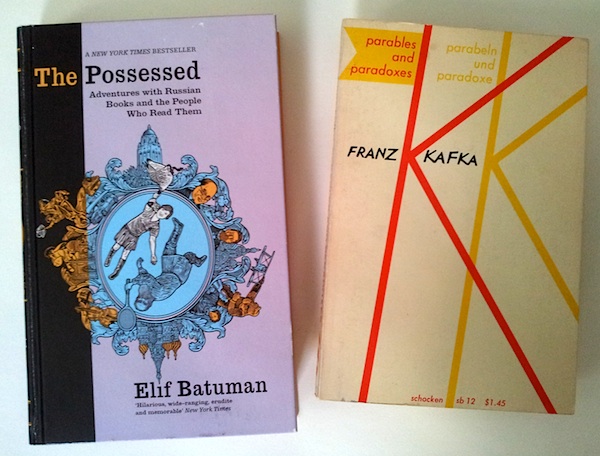 I noticed an old card and folded piece of paper in the Kafka, which I thought deserved further research. To my amazement, I found tucked into the Kafka book two bits of New York beatnik history!
First, there was a folded flyer for a performance at Caffe Cino, the famous alternate theatre run by Joe Cino at 31 Cornelia Street.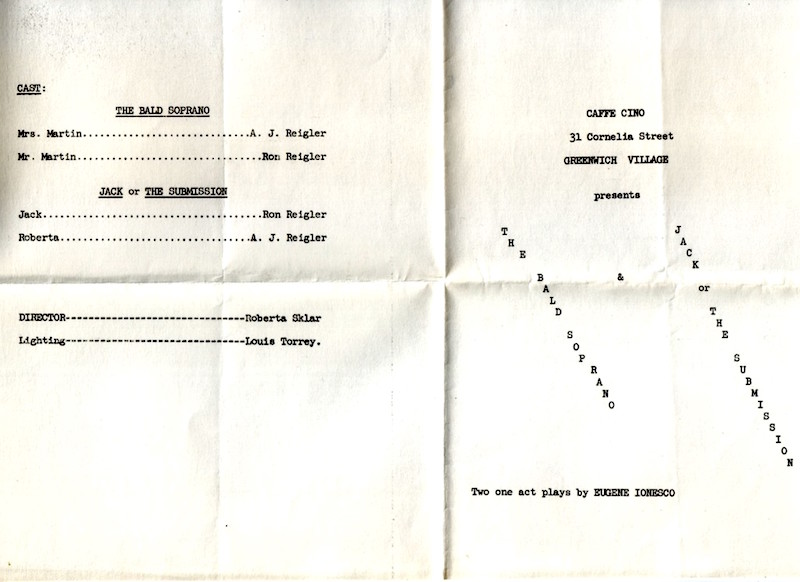 Caffe Cino Flyer  -  May 20th 1962

Joe Cino (1931-1967), originally from Buffalo, New York, opened the cafe theatre in 1958, creating what is now considered to be the first off off Broadway theatre in New York. The venue, which had no real license to be used as a theatre, was always in trouble with the law, and somehow survived by running impromptu events with no publicized schedule.
Finding this actual flyer for a performance at Caffe Cino, was intriguing. The director of the two Ionesco pieces was Roberta Sklar, who apparently was the co-director of Jean-Claude Van Italie's 1968 production of "THE SERPENT." There is a video documentary about this play on Youtube in three parts: 1 2 3
The performers at Caffe Cino that night were Rob Reigler and A. J. Reigler, and the lighting was by Louis Torrey. Was that Louis Torrey any relation to John Torrey, Joe Cino's lover, who some suspect was responsible for the 1965 fire that nearly destroyed the theatre? Well, a lot of these details are no doubt lost to history, but it is still amusing to find tid-bits like this floating up from the memory well.
The other amazing find in this copy of Kafka's Parables and Paradoxes, was an original "discount card" from Limelight Bookshop!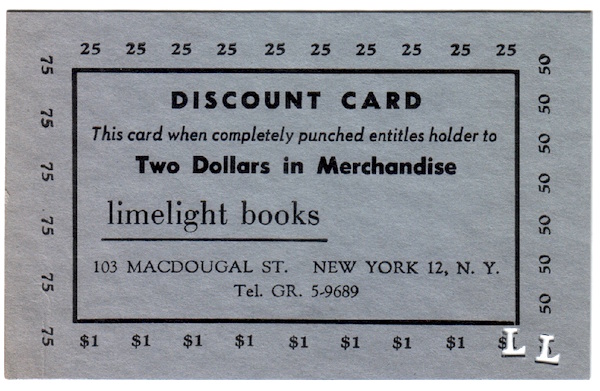 Around the edge of the card are prices of books, 75 cents along the left, 25 cents the top, 50 cents to the right, and $1 books along the bottom. Punched out of the lower corner of this card are two prices, $1 and 50 cents. The punch-hole is in the shape of the capital letter L — in a very nice serif font — hardly the sort of detail that anyone could fake. Also, the Kafka book had a cover price of $1.45, which corresponds with amount punched from the discount card. All in all, this appears to be an artifact of genuine Greenwich Village history!
At first, I thought this card was related to The Limelight cafe, gallery, and bookstore, which was founded in 1954 by Helen Gee (nee Wimmers) (1919-2004), a German American New Yorker who married the artist Yun Gee (1906-1963).
The bookstore was not only famous as the best cafe to hang out in for artists, writers and intellectuals in the Village, it was also home to the first successful photography art gallery in New York.
Helen Gee wrote a well-received memoir about the Limelight, packed with interesting Village history.
Like Cafe Cino, the Limelight served as a venue for various performers in it's day. This photo is supposed to have been taken in the Limelight during a 1965 appearance by comedian Jean Shepherd.
Limelight photo 1965, Jean Shepherd (photo by Dave Michelsohn) src
When I saw this photo, various details stood out: the bare plywood "stage," the well stocked bar, bentwood chairs, exposed brick walls, and the general unadorned scruffy interior. However, Helen Gee's daughter, Li-Lan, has remarked that the cafe never had a licquor license.
Indeed, the original Limelight was much swankier! In Helen Gee's remarkable memoir, there is a photo from May 1954, that shows what the first Limelight looked like.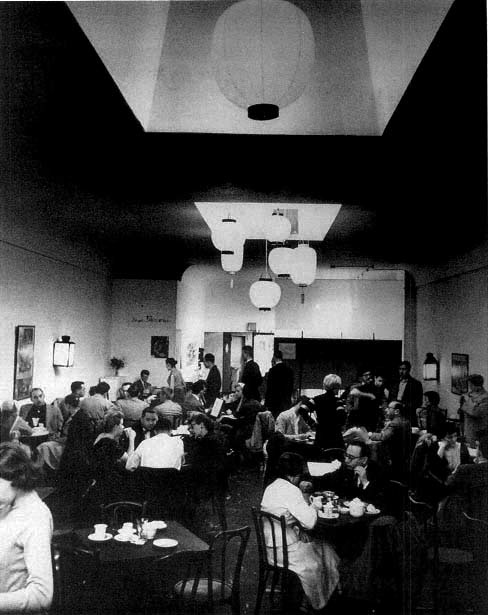 Limelight Restaurant photo by Arthur Levine, May 1954.

It was truly elegant. With a lofty ceiling, hanging globes of light, clean white walls, and square lanterns. Those square lanterns do look the same in both photos, except that in the Michelson photo the wiring seems to be from a hideous exposed conduit running up from the floor, which is not at all like the original clean white walls. This is such an odd mystery! Did the Limelight deteriorate into that wretched dive in the span of 11 years? Did it move to a new location where the original lanterns were hacked onto the bare brick walls?
A close examination of the architectural plan for the Limelight in Helen Gee's book shows that the property was a long narrow building running between 7th Avenue South and Barrow Street. The actual addresses would have been 91 South 7th Ave, and 14 Barrow Street. Indeed, Helen attests to being amazed when the bohoes and beatniks showed up in her cafe. She wrote that such boho types were simply never to be seen West of MacDougal street, their usual haunt, where they were as thick as thieves. According to one source, The Limelight closed in January 1961. However, an advertisement (page 3) in the Columbia Daily Spectator lists Limelight Books at 103 MacDougal in their Nov. 3rd, 1960 issue. So Limelight Books at 103 MacDougal may have opened before the original Limelight closed. Indeed, the second incarnation of Limelight Books apparently had nothing to do with Helen Gee's famous Limelight gallery and cafe… Even so, it would interesting to know more: who opened Limelight Books? How did they end up with the identical lamps (assuming that Dave Michelson's photo is correctly attributed)? And when did Limelight Books eventually close?
This reminded me of my own days in New York, probably half of which I spent wandering the streets and hanging around in the Village. By 1978, when I moved there from New Mexico, the art scene had begun to drift southward to what was then still a warehouse and office district in Soho. There was not so much living theatre as there was punk and new wave music, though nobody called it by those names. Typical hangouts for me on MacDougal Street were Bleecker Bob's Record Store (when it used to be near the corner of 8th Street) and Cafe Reggio. I can't remember what, if anything was located at 103 MacDougal in the late 1970s, but I think it is in the building currently taken over by Panchito's Restaurant.
This lucky find at the bookstore took me on a pleasant little excursion into psycho-geography and the history of the Village art scene. Can't you picture the original owner of this book? They must have visited Greenwich Village in 1962 and stopped in to see the famous beatnik scene. Browsing the photos on exhibit and the racks of books at the Limelight, how much fun it must have been to buy a copy of Franz Kafka, and to get the little discount card… something which they could never really use, but just for the memento. And then to drift around the corner up Bleecker Street to Cornelia, to catch the avant-garde Ionesco show at Caffe Cino. So romantic, really. And how appropriate for these historical images to hinge upon a few scraps of paper falling out of a Franz Kafka book 52 years later!