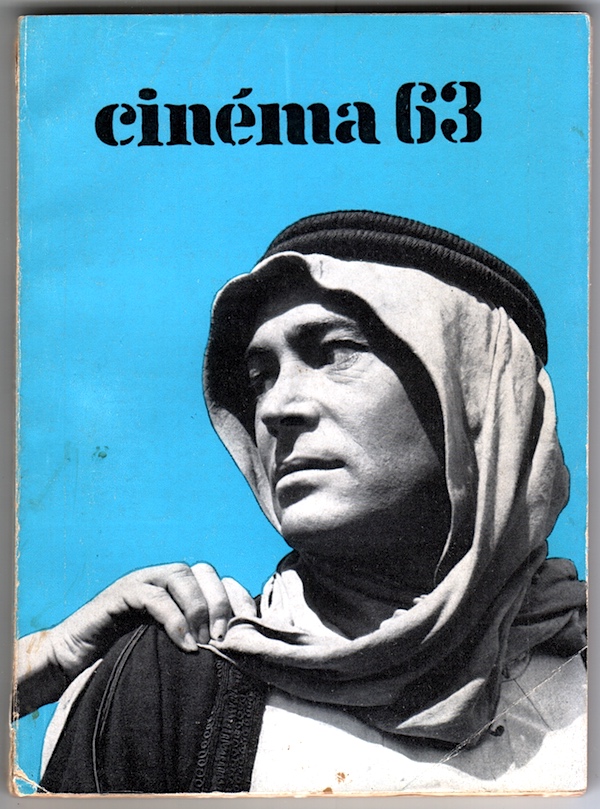 Out of curiosity, I bid on issue No. 75 of Cinema 63 that was up for auction on eBay in France. The magazine arrived promptly, fairly reeking of mildew and with pages cracking off the spine, but despite all that I got a real kick out of reading "Cinemois" by Jean Pierre Melville. This article turned out to be an eight page diary for the month of February 1963, with many short-hand references to the personalities and salons of French cinema at that time. What a gas!
It's been a long-term thing for me, this fascination with Melville. My favorite of his films is definitely Bob le flambeur, though Le Samouraï and Cercle Rouge certainly have their advocates. But there was always something classy about Bob. It was the way he sauntered around the morning streets of Pigalle after gambling all night. It was the pointless circles that he walks, round and round the same streets, with a graceful nod to the bartenders and cafe owners. An air of lonliness haunts his face, an aging bon-vivant who's seen it all; then again, there is a cynical defiance. Rien à perdre, mon ami!
A few years ago (2017) was Melville's centennial celebration. Of the several books on Melville published that year, the best of the lot was Une vie by Antoine de Baecque with its polished design and lavish full-page photos. Subsequently, there were some pretty good reviews about Melville, including a really interesting article in the London Review of Books (June 20 2019) by Adam Shatz called "Who Does that for Anyone?"
Shatz provided a great summary of Melville's life and career, with an emphasis on the sense of brotherhood that permeates his films. In an episode as dramatic as any shoot-em-up film noir, Shatz described how Melville's brother was murdered by a traveling companion while trying to transport a shipment of cash to the partisans fighting against Franco in the Spanish civil war. Many years later, after he'd been tried and convicted, the murderer wanted to show some remorse by contacting Melville. The killer offered to return some of his victim's personal effects that he still had in his possession. Melville did not answer.
There is a reticence, a lack of forgiveness, a ritual sense of honor that Melville reveals in all his films. It is not an "honor among thieves" but rather a sort of bushido , a code, a way of life that cannot be broken no matter what it costs. That is what gives the strangely detached and fetishistic gangsters in his films the ambiance of doom and existential suspense. As carefully planned robberies, break-ins, and assassinations are methodically acted out; there is always the sense that things will go haywire; and that an impromptu wildness is lurking just under the skin.
The tension that plays out between well-crafted perfectionism and reckless abandon (necessitated by circumstances that spin out of control) is what makes the elegant hero – like Bob – so fascinating. Even though he is always thinking fast, and being careful and fastidious, sometimes it all goes South and he snaps, turning into a bully and a macho bastard. He's not all creased slacks and sparkling eyes when that happens. Sometimes he's just a prideful bruiser parading for his own reflection in the cafe windows of Pigalle.
But enough about Bob. In the following translation I tried to adhere to the original language in French, which is pretty loose, and generally first person present-tense. Even so, I wanted to make it sound like Melville, make it feel like the self-quarantined director, with his sartorial splendor and egotism… at least to depict the Melville that I imagined, who wore a white Stetson cowboy hat as he walked somberly through the ruins of his studio. His entire stock of films was completely consumed by the fire, reduced to piles of ash and rubble.
Was his emotion made any less real by having constructed the image of himself as he experienced it? That is the question to ask about Melville. His eternal sadness was not just about the studio, or the war, or his brother; it was also about the cognitive dissonance between his inner Self and the image of insouciance that he projected; the emptiness that could never be revealed, even with perfect light and practiced focal lengths.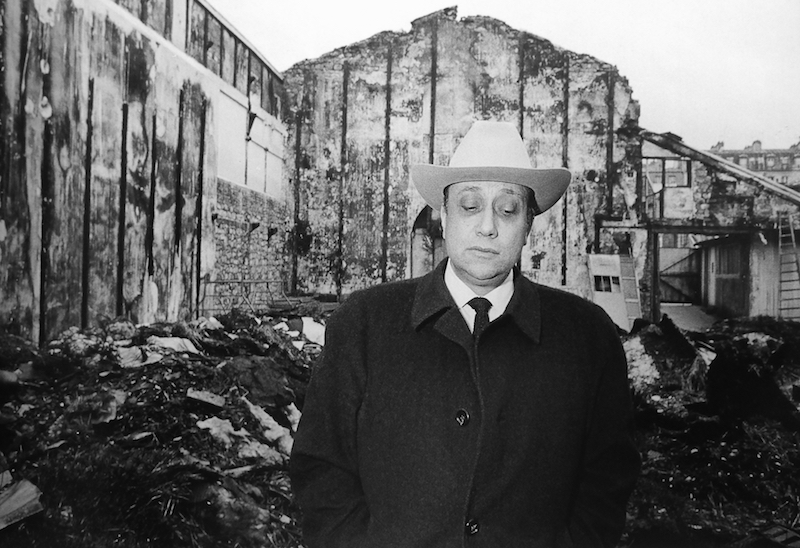 This meta-commentary was captured in Godard's Breathless in the (mostly obnoxious) scene where Jean Seberg interviews the famous film director. Despite the director ignoring her question, Seberg persists in asking Melville again: "what is your greatest ambition in life?" Melville ignores her again, but after answering several other pseudo-meaningful questions about eroticism, he at last peels off his aviator's sunglasses and reveals his greatest ambition: "To become immortal, and then, to die." And so Melville is frozen for all time as a two-dimensional caricature of himself. He is at once a fashioned and fashionable construct, a debonair creature of sophistication and style; and yet, he is also a fraud, an imposter, who has built himself an airtight code of honor and then suffocates inside of his own elaborate invention.
Melville, with absolute certainty and perfect self-awareness. proceeds to hang himself on his own petard. He's filmed one robbery too many. One insult too many. One whisky, one Cadillac, one barbituate, one cigaret girl, one spin of the roullette wheel… too many.
---
Cinemois by Jean Pierre Melville [first appeared in Apr 1963]
translated by Google, and further obfuscated by Merrick Lex Berman. Numbered references appear as endnotes after the main text.
---
FRIDAY FEBRUARY 1
In a week Le Doulos (1) will be released. I enter
this period of fever and fear that I find with each
release of my films. For once, I like the posters.
On the other hand, I am very unhappy with the choice of theatre salons:
1 ° The Hermitage, the worst projection of the Champs-Elysées, always vague. Where 1/6 of the image height is not visible on the screen and where spectators come in and out during the film, to the right and left of the screen.
It's a salon which had its hey-day in the 1930s and to whom the owner could, if he wanted, restore its luster by modernizing the colors and the material of the walls. This gentleman, who I don't even know, is called Sucre!
2 ° The French. (The colors of the room: blue, white, red!)
3 ° The Wepler, nicknamed "The desert of Clichy".
4 ° The Miramar, very good crowd sucker. Where one projects generic films in full light just to sell a few more candies.
SATURDAY FEBRUARY 2
Lunch at Dauman's. (2) Strange character, intelligent albeit intellectual, cultured. Like a young version of Pierre Braunberger. (3) He seems to live very freely with a lady, maybe with two … Until 4:00 am we talk about the love of women. We break sugar (not the same as that Sucre yesterday) on the back of our little cinematograph. We have fun.
This morning we received the quarterly issue of the Film Français and, during the weekend we will carefully dissect it. Since Dauman read in there that his two films made the least money of all this year, he no longer believes in "Cinema-verite". In my opinion, the truth is that Rouch (4) showing Rivette (5) as a worker is very questionable …
SUNDAY FEBRUARY 3
I dined with Pierre Braunberger at "La Route Mandarine", on rue les Beaux-Arts. Our conceptions differ totally. He assures me that Vivre sa vie (6) is just plain smart ass… and this view I can support. Because it doesn't matter what could be turned out based on the elements that I provided free of charge to Godard in the first place (Bubu de Monlparnasse, (7) Une
Femme, by Peisson, (8) the book by judge Sacotte (9) and my personal adventure with a certain Jacqueline Garnier who tapped 71, rue St-Denis). (10)
Pierre tells it so well, and that Godard's talent is just stealing other people's ideas. It all flies very well. But I do not agree.
MONDAY FEBRUARY 4
A screening of Les Doulos at Wepler. 9:00 a.m.
The empty room. I remember the screening of Le trou (11) at Marignan, where Jean Becker had invited me. Jean went with the people from the lab up to the mezzanines and I, alone with my wife, went to sit in the orchestra seats. Wonderful and painful memory: Jacques (12) had just died and he had not seen the standard release of his most beautiful film, what I still consider to be the greatest French film of all time. Jacques… would he have liked Les Doulos ? How to know ?
TUESDAY FEBRUARY 5
9:00 a.m. Screening in French. The director yells at me: "my film is too long." I try to make him accept the principle of shutting his trap after the start of movie. He looks at me and says, "Are you serious?" I don't insist …
Lunch with Pierre Billard. (13) We talk about everything, but also actors of Les Doulos. He is full of praise for Serge Reggiani, (14) and I agree with him.
Dinner with Claude Brulé. I discovered in him – something that I did not expect – an attentive witness of our time, with the spirit of deduction very developed. I spent a wonderful evening. Very late at night we were still talking about people in cinematography. We exchanged our impressions regarding Vadim. He amicably defends him. Not me. (15)
WEDNESDAY FEBRUARY 6
9 o'clock. Screening at the L'Ermitage.
Witnessing the impossibility of an hour and a half with the focal point simultaneously at the edges and at the center of the screen.
The director explains to me that in his theatre "we cannot renovate the whole screen because it is concave. Of course, it's a regrettable mistake on the part of Mr. Sucre, the owner, but he doesn't want to change anything." When I point out to the director that 1/6 of the image height was missing, he said to me: "I know, the lens should be changed." To him I reply: "Why don't do you it?"
I'm leaving L'Ermitage by wishing Mr. Sucre bankruptcy (after Les Doulos has its showing, of course). Since that Thursday in 1932 when I began to live in this place by watching All Quiet on the Western Front, a lot has changed in the world. But nothing changed in L'Ermitage itself. As for those wonderful club chairs, no more than two dozen are still in existence at Filmax.
THURSDAY FEBRUARY 7
What will the reviews be like?
I'm only sure of one. That of X … I know he will hit me with a low blow. That is to say, he will not actually do any criticism of my film, as usual, but instead he will come back to settle this old account between him and me, which has been going on since 1949.
But by the way, why does X … have so much hate for
me? Is it because I stopped being a Marxist? Is it
because I'm not unionized? Is it because I don't like Russian movies? Is it because I like American films?
FRIDAY 8 FEBRUARY
9:00 o'clock. I show Les Doulos to Sautet (16) at the preview in Miramar. His judgment is very important to me. This young man who stopped making movies three or four years ago for obscure reasons unworthy of him
(this comment is to force him to confess them publicly) is one of those who speak it best. He gives me a perfect analysis really, just Doulos.
After lunch, I take three tablets of imménoctal, (17) I condemn my phone to silence, put earplugs in both ears, and lock myself in my room. I sink into a nightmare sleep around 4 a.m.
Midday.
I wake up with a start at half past 9:00 in the evening, and call out to my wife.
She tells me that "it's all over!"
– Was there a queue at 8 o'clock?
– Yes, in all four theatres …
I get up, get dressed at full speed and rush to take in the sitation with my own eyes at 10:00 pm, and to see if the miracle has taken place.
Phew … I saw. There is a line everywhere.
Euphoric, my producer is going to celebrate at Fouquet's! (18)
I do not join him. Gourgo Salice, the distributor, is full of rage. He hated the movie from day one. At the screening of the standard release version, he said to de Beauregard in front of my wife: "If Carlo Ponti understood something about this movie, I'm the king of idiots."
de Beauregard, being polite, did not dare on that occasion to tell him that, indeed, Carlo Ponti had understood everything. (19)
WEDNESDAY 13 FEBRUARY
Saw Le Soupirant. Étaix is neither Keaton nor Tati. (20)
FRIDAY 15 FEBRUARY
Saw Du mouron pour les petits oiseaux. Oh, Marcel of
Le jour se lève, where have you gone? (21)
SATURDAY FEBRUARY 16
9:00 o'clock. Saw Le Vénus de Milo. Soup with Nicole Courcel and Piccoli. I insulted them because they have not yet seen La garçonnière. (22)
SUNDAY FEBRUARY 17
Dine with Pierre Braunberger. He recognizes that the cinéma-vérité is a honey trap. And that nothing is as false as truth without fiction. The Reichenbach case is discussed. (23)
MONDAY FEBRUARY 18
Nicole Courcel phones me. She went with Michel Piccoli see La garçonnière. For her, Shirley McLaine is the greatest and Jack Lemmon the greatest, right up there with Sinatra. She was polite to me too.
TUESDAY FEBRUARY 19
Lunch with Raoul Lévy. A serious conversation with an intelligent monster, who is otherwise perfectly inhuman. An extraordinary lucidity, a deep contempt for everyone, an indisputable charm. He will rise again and then relapse, that's for sure, and then start again. He is, I think, the last classy adventurer of our job. But he came into the world too late. Fifty years earlier, he would have been Mr. Pathé-Gaumont. He has, I believe, one of the rarest things: that great international classiness but at the same time a lack of Cartesian judgment (which will always miss the big things). He achieves this as if it is easy. (24)
WEDNESDAY FEBRUARY 20
Lunch with Robert Dorfman and Fernand Lumbroso
to talk about Trois chambres à Manhattan. We talk … We have to meet again … (25)
THURSDAY, FEBRUARY 21
I settle in the Raphaël hotel for a few days. It's my only way, from time to time, to take a vacation, never managing to leave Paris. (26)
FRIDAY 22 FEBRUARY
Télé 7 j'ours interviewed me on television. (27)
Lunch and dinner with Raoul Lévy. In the evening Fernand Lumbroso comes to my house to tell me about Trois chambres à Manhattan … We talk … We have to meet again …
SATURDAY FEBRUARY 23
In the afternoon, I learn at 2:00 pm that Central Catholic will hold an informational meeting on "the crisis the cinema." Sallard, Cosne, Edeline, Barange, Mathot, William, Magnin at the podium.
After their declaration I am asked to say a few
words. I attack Francis Cosne who, in order to save French cinema, found a funny solution: make movies for TV.
He didn't understand that the French cinema is not just about production (meaning the producers). French cinema is also: the theatre salons, the club chairs, the big screens. State TV is our enemy.
President Edeline thanks me for my anger and William Magnin wants to know me better. "I like people who are brave," he told me. (28)
SUNDAY FEBRUARY 24
9:00 o'clock in the evening. Un dimanche à New York. Brialy is also good. He compares with Jack Lemmon. Marie-José Nat: exquisite, delightful, excellent. (29)
A very pleasant evening. I share my proscenium
with Pierre Zimmer. I eye his profile out of the corner of my eye. What a handsome guy. I'll make a movie of this guy. (30)
MONDAY FEBRUARY 25
I take stock of my criticisms.
Apart from that of Democracy 63, which is purely
and simply defamatory (are we not going to say that
I have a brother at the Express!) I have never been so little demolished.
Of course X … did his usual little number. It was necessary that I clear that up. Why so much hatred on
his part?
It is true that if I ask him that question he will answer me simply: "Because I don't like your movies, that's all." And he wins.
This man with a Napoleonic profile, with a honeyed voice (I encountered these the first time on TV talking about Russian cinema), who compares me to Decoin, Crangier and Joannon. _Me_, it doesn't bother me at all. But maybe they will make him a defamation lawsuit! (31)
TUESDAY FEBRUARY 26
Saw William Magnin on TV. We agree on the Cinema-Television disagreement.
WEDNESDAY FEBRUARY 27
Robert Dorfman and Fernand Lumbroso come to
me to talk about Trois chambres à Manhattan. We
talk … We have to meet again to talk about it… (this has been going on with Fernand Lumbroso since October 3, 1961).
Spend the afternoon with my musician Delerue.
Have dinner with Domarchi who talks to me about his book Evolution and Revolutions. (32)
THURSDAY FEBRUARY 28
This month is over.
I have seen few movies, busy as I have been between my editing room for L'aine de ferchaux (Magnet of Doom) and the release of my new film.
I'm seized, very flat. I would not like twelve months like this in the year. I've seen a lot of productions. I have received some interesting proposals and one very interesting indeed. This producer received me in his office saying to me: "Dear Jean-Pierre, what a pleasure for you to see me here finally, where we have been meeting for fifteen years! "
Father Lepoutre and Father Flipo come to dine with me. Very pleasant evening with these two friends including everything that should be repelled by me, and towards which everything that brings me closer: the faith of these men and my atheism, their poverty and my spirit of enjoyment, their modesty and my pride, and so on.
Well, in the next life, I will try to be a priest, to see…
Ah no! It's true that I am an atheist, therefore no next life.
---
published in Zapf.Punkt #5 (Spring 2020) toc
---
Notes
1) Le Doulos: J. P. Melville's 1963 gangster film, named after the slouch hat worn by police informers.
2) Anatole Dauman producer of nouvelle vague films, including Chronique d'un été.
3) Pierre Braunberger film producer, founder of Studio Lhmond, where Melville was associated at the start of his career, and owner of Pantheon Cinema.
4) Jean Rouch: an anthropologist known for his documentaries on African societies, and was co-director with Edgar Morin of the film, Chronique d'un été, shot in the streets of Paris during the summer of 1960.
5) Jacques Rivette: director credited (by Godard) with launching the nouvelle vague with his 1956 short film (28min) Le Coup du berger.
6) Vive Sa Vie: Godard's 1962 film starring Anna Karina.
7) Bubu de Montparnasse a novel about the night life of Paris published in 1905 by Charles-Louis Philippe, with evocative lithographs by Grandjouan.
8) Peisson: Eduoard Peisson, a novelist who wrote about the working class in Paris.
9) juge Sacotte: Marcel Sacotte, a judge whose book La Prostitution was a sensation in its examination of the skin trade when it was published in 1959.
10) 71, rue St. Denis: We can assume that Melville is referring to a hooker or nightclub performer at that address. The whole area around there and Pigalle was famous for late night entertainments, like the scene Frank Horvat snapped of Rue St. Denis in 1956.
11) Le Trou): A film about prisoners attempting to break out of La Santé Prison in Montparnasse, directed by Jacques Becker (1960). Melville considered it to be the greatest French film of all time.
12) Jacques Becker: Director of Touchez pas la Grisbi and Le Trou, died on 21 Feb 1960, less than a month before the release date of Le Trou.
13) Pierre Billard: editor of the journal Cinéma, including the issue this article appeared in No 75, Apr 1963, Cinéma 63.
14) Serge Reggiani: prolific actor, performer and singer of chanson who starred in Melville's Les Doulos with Jean Paul Belmondo.
15) Claude Brulé: wrote the original story for Roger Vadim's 1960 film Et mourir de plaisir, and was the main writer for Vadim's Les liasons Dangereuse, starring Jeanne Moreau, Gérard Philipe, and Annette Stroyberg. Later Brulé was one of many writers who worked on Vadim's Barbarella (1968).
16) Claude Sautet: director of the 1960 gangster movie, Classe tous risques starring Lino Ventura, Belmondo, and Sandra Milo (who portrayed Mastriani's wife in Fellini's 8 1/2.)
17) imménoctal: a pharmaceutical barbituate that hit the market in France beginning in 1954. The drug was prescribed as a sedative and widely available in France. The packages had images of pairs of scissors, opened into the shape of the letter X, against blue and red backgrounds. See full article in Le Monde, (12 Sep 1990).
18) Fouqet's: the classic brasserie in Paris VIII Arrondissement at 99 Avenue des Champs-Élysées, which was established in 1899 and a landmark of Le Belle Epoch.
19) de Beauregard: producer of many nouvelle vague films, including Godard's A bout de souffle (1959). Carlo Ponti was a prolific film producer of such classics as Fellini's La Strada (1954) and David Lean's Doctor Zhivago (1965).
20) Le Soupirant: a near silent comedy, starring, written, and directed by Pierre Etaix (1962). Melville compares it to the body language humor of Buster Keaton and Jacques Tati.
21) Marcel Carné: directed Du jour su lève (1939) in the poetic realism style, and Du mouron pour les petits oiseaux (1963).
22) Le Vénus de Milo: the French release title for Le vergini di Roma (1961). Melville insults them for not having seen Billy Wilder's The Apartment (1960) with Jack Lemmon and Shirley Maclean.
23) François-Arnold Reichenbach: director of cinéma-vérité films, including _Un Coeur gros comme ça _(1961), a day-by-day account of a young Senegalese boxer in Paris.
24) Raoul Lévy: producer of many films, including Peter Brook's Seven Days Seven Nights (1960) starring Jeanne Moreau and Belmondo. Moreau won best actress at Cannes for her role in this film. Mr. Pathé-Gaumont, a confabulation of the two large studios and distributors of films in France.
25) Robert Dorfman: producer of Alain Resnais' Last Years at Marienbad (1961), who would also produce two of Melville's films Un flic and Le cercle rouge. Fernand Lumbroso was a stage producer who pitched his film idea L'aine de ferchaux "Magnet of Doom" (1962) which ended up with Belmondo in the lead, and Belmondo brought in Melville as the director. Trois chambres à Manhattan (1965), based on a Simenon novel of the same names was later directed by Marcel Carné.
26) Raphaël Hôtel: a staid, conservative, posh hotel in the 16th arrondissement, near the Arc de Triomphe.
27) Télé 7 j'ours: the French T.V. Guide magazine, published by Jean Prouvost, a right-wing media magnate who also published Paris Match and Paris Soir.
28) Francis Cosne: co-founder of the production company Films Ariane. William Magnin was a director of film and television series, such as La déesse d'or (1961). Jean-Charles Edeline was president of the National Federation of French Cinemas in 1963.
29) Un dimanche à New York: stage play that appeared at the Théâtre du Palais-Royal starring Marie-José Nat and Jean-Claude Brialy.
30) Pierre Zimmer: actor and director of Donnez-moi dix hommes désespérés (1962).
31) Henri Decoin: director of many films, nearing the end of his career in 1963. Gilles Grangier: another prolific director of French comedies and occasonal gangster movies. Léo Joannon: director of many studio films, whose Fort du Fou (eng title: Outpost in Indo-china) was released in January 1963. Needless to say, Melville's sensibilities as a director had virtually no common aspects with these three directors.
32) Georges Delerue: the virtuoso composer of hundreds of film scores, from Truffault's Jules and Jim to Stone's Salvador. Jean Domarchi: a leading contributor to Cahiers du Cinema in the 1950s and 1960s, friend of many directors and actors, who had a bit role (as a drunk) in Godard's Breathless.