The MICE invasion of Cambridge was a swarming crowd of anarchistic fun. Hundreds of comix-crazed attendees jammed the halls of Leslie University, chatting with 200 comic artists and publishers. Tables of eye candy stretched through the second floor of University Hall, connecting with additional jam-packed side rooms named after comix greats, such as the Crumb Room, Doucet Hall, and the Bechdel Room.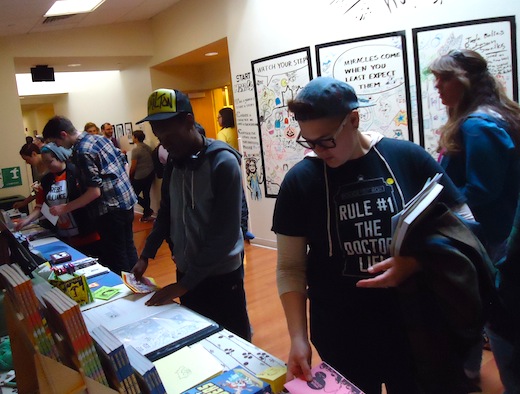 You gotta love the idea of independent comix artists actually being recognized in the mundane society for their pure "genius" — proven by Alison Bechdel's Westinghouse Genius Award in 2014!
Here is a gang of fervent, possibly feverish, and yes, well, let's face it, mostly starving artists who are so adamant, so tenacious, and so in-your-face diversified, that their official genius is the inventor of the gender-bias principle known as the Bechdel Test.
Yo, MICE artists, kudos to the whole lot of you! You are giant mice among scampering human conformists, in my book.
As I wandered around, I talked with Holly Foltz and Jerel Dye, picking up Dye's two issues of One Android, with their robot vs. sea monster and robot stuck on a desert island themes. As I happened to currently be reading the anthology Pseudo People, I guess I couldn't resist those android comics. They had a nice use of contrast and were painted with brush and ink.
Another interesting discovery was the artist Sally Cantirino, who was busily painting a commission page in someone's con sketchpad. I liked the boldness of her attack on the clean page, and starting flipping through her mini-zines. The one I liked best was Wise Blood, which was a series of female portraits with an occult mystical theme. Her style is bold and has the sort of internal asymmetrical energy of Paul Pope. The signature she sketched on the inside cover for me was the best of the show!
It was an unexpected treat to meet Robert Sikoryak. His twisted psychological mash-ups of classic novels and superheros comics were some of the greatest stuff I encountered in Drawn and Quarterly. In particular his reworking of Crime and Punishment, with Raskolinikov as Batman, is an image that will stay burned in my mind forever.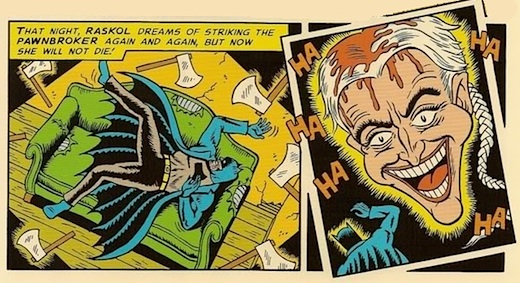 Now he has collected the whole series of those mash-ups in a book, Masterpiece Comics, well worth the price of admission. At MICE, he signed for me a copy of his newest mini-zine — Sadistic Comics — published by Rotland Press, as Rotland Dreadfuls #10. This is a great little comic which recasts Wonder Woman from Sensation Comics as Justine from the novel by Marquis de Sade.
Each page is a single panel that portrays Wonder Woman / Justine in some sadistic situation as a series of psuedo covers. As usual, Sikoryak's peculiar social commentary and humor is over the top strange, disturbing, and hilarious.
The only panel I attended at MICE was the Black Independent Comics and Cartoonists Panel, moderated by Tony Davis of Million Year Picnic fame, and including Whit Taylor, John Jennings, Ben Passamore, Joel Gill and Micheline Hess.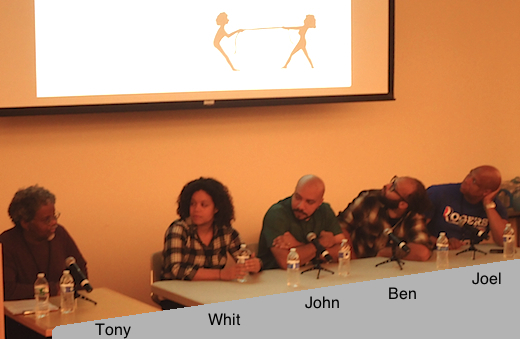 Tony kicked off the session by recalling his growing up with comics, buying them in his Los Angeles neighborhood from a black-owned bookshop owned by Mr. Hall, and his forays up to Hollywood where a black high-school student worked at Burt Blum's famous comic book section of the Cherokee Book Shop. In this sense, Tony felt as if his own experience of reading and buying comics was a normal part of his black community, even though the characters in the comics were almost all white people.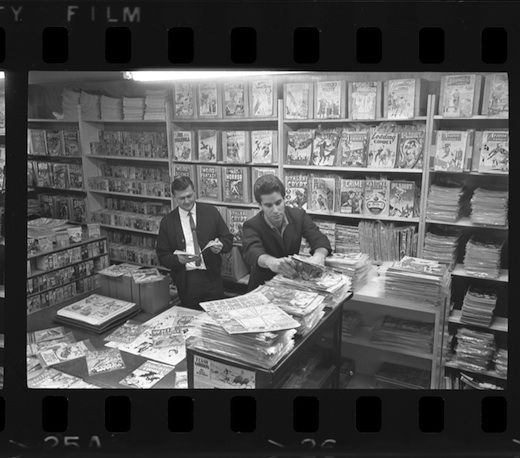 Burt Blum in the original Cherokee Book Shop Comics Section
The panelists then spent time introducing themselves and their experiences in growing up with comics and the point at which they were able to connect with black characters in comics. Joel Gill thought it was the character Spawn, whose skin was ripped off and altered by a series of cosmic events, but who was actually an African-American, that was able to transcend the white and black stereotypes pervading the comic book pantheon. The author of Spawn, Todd MacFarlane, has explained his motivation in creating the character Spawn, in which he deliberately set out to remove the concept of race, as seen in the color of a person's skin.
Ben Passamore had a similar reaction to Spawn, though John Jenning's said the character he related to most was Daredevil, the white blind lawyer — not in terms of his race, but in terms of his attitude. Daredevil was the guy who didn't really have any superpower, except that he just didn't know when to stop. He was the "Man Without Fear," who overcame his handiciap to swing around on cables and take on all opponents. For Jennings, it was that fearless attitude of never giving up that he related to most. Whit Taylor talked about growing up in a mostly white part of New Jersey, reading Archie Comics, and wondering why the characters Chuck Clayton and Nancy Woods were so totally devoid of personalities. It was as if those characters had no black identity at all, and this made Whit wonder what a real African American comic book protagonist should be like. The solution, of course, was to create her own comics and characters!
Micheline, who arrive some 45 minutes late to the panel, had an appropriate analogy about her experience of black characters in comics. She said that in trying to identify with characters in comics, black people felt like "showing up to a banquet where everyone is already seated and eating. You can stand there and have something to eat, but even though nobody will ask you to leave, what you really want is to make yourself a place at the table with everyone else!" Tony Davis added: "Or it's like showing up to a whole series of banquets where the food is always the same."
Some of the recommended links and venues that the panelists mentioned to find out more about black independent comic creators were:
Black Comic Book Festival (held at the NYPL Schomburg Center for Research in Black Culture)
After the panel session, I went to look for Ben Passamore. His art really knocked me out, so I picked up both issues of DAY GLO AY HOLE and a mini-comic called Goodbye. Ben's work is something that I would call deeply human and angst-ridden, addressing the world we live in from a philosophical perspective that I found interesting and refreshing.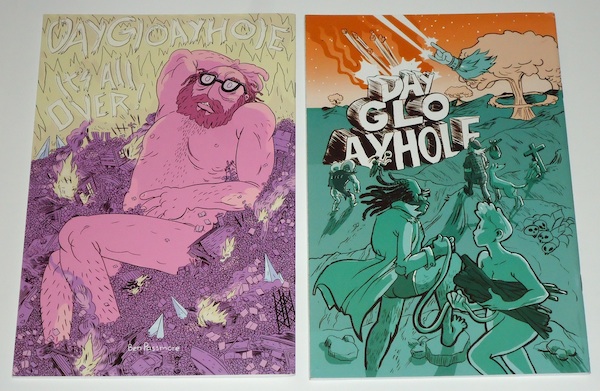 On the Black Independents panel, Ben remarked that growing up he felt very isolated and lonely. He said: "I made violent and lonely comix when I was a kid, and I guess I still do." About how his readers approach him he also said "Since my comics are so intensely personal, my blackness might be subjugated by the uncomfortable personal things that I write about." I could certainly relate to what he was saying, and I highly recommend taking some time to check out his stuff.
Once again, MICE, nibbled away at the status quo, leaving tooth marks on the shiny, brain-dead culture of corporate America. Power to the Independents, and power to the people who support their fellow humans!