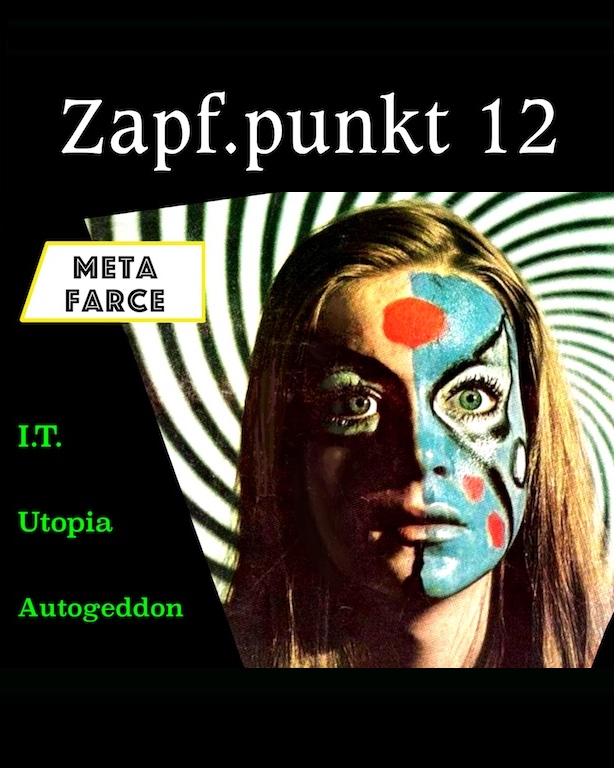 Welcom to Zapf.Punkt number twelve, where the Metaverse is revealed as a Meta Farce.
Zapf.punkt 12 (Winter Solstice)
Download from Diamond Bay Press
In this issue, we take a look at the launch of London's first major underground newspaper The International Times, which came rattling up from the Ladbroke Grove neighborhood of Notting Hill like the Swamp Thing escaping from the depths of our collective subconsious.
In a magical conjunction between newly formed syndicates of the underground press, and the deep pockets of pop music millionaires, the in-crowd of theatre people, poets, and jazz aficionados took off on a blast of weed and mind-altering chemicals.
Heathcote Williams' diatribe against the fiendish agent of our doom – the automobile – is reflected upon in our tribute to his great prose poem, Autogeddon.
This issue also features the late, great Egyptian science fiction author Ahmed Khaled Towfik, which picks up from a brief biographical note and provides a transcript of Towfik's comments on his dystopian novel Utopia.
A capsule review of Tom McGrath's science fiction play, The Android Circuit rounds out this issue.
Table of Contents
Million Volt Lottery Ticket
Reality Check: International Times
Autogeddon
Ahmed Khaled Towfik - Utopia
The Android Circuit of Glasgow