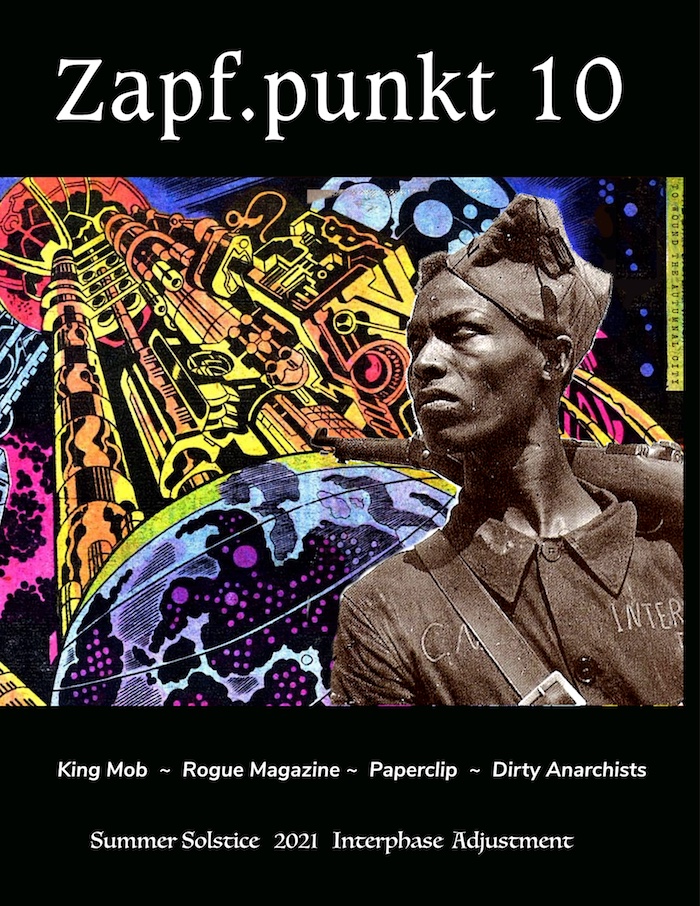 Hot off the laptop, here's the tenth issue of Zapf.Punkt for all you deca-philes out there. Download your free copy from Diamond Bay Press:
Zapf.punkt 10 (Summer Solstice)
Download from Diamond Bay Press
In this issue, we dig up the dirt on the anarchist collectives King Mob and Black Mask based on an interview at Yale's Beinecke Library with Donald Nicholson-Smith. We explore the origins of these radical movements in London and New York by asking the question, how did the 60s radicals respond to the commodification of art?
This issue also features a look at Rogue Magazine, the upstart competitor of Playboy Magazine. How did Rogue manage to publish so many amazing writers (many of them science fiction authors) during the late 50s and early 60s? Our story centers on the early career of Ted White, who broke into print with a first hand account of the riots at Newport Jazz Festival in the summer of 1960.
We've got a sneak preview of Seb Doubinsky's new novel, Paperclip, which is coming out in August from Meerkat Press.
Simon Springer, who came up with the idea of a PhD in heavy metal music, joins us with a shout out to the rich, loamy soil itself, mother of all us dirty anarchists.
Table of Contents
Million Volt Lottery Ticket
King Mob and Black Mask
Ted White Goes Rogue
Paperclip by Seb Doubinsky (book review)
Dirty Anarchists by Simon Springer