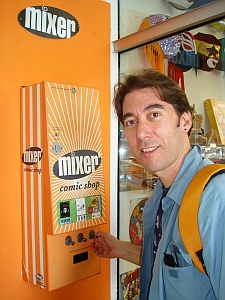 It's nice to know that comics are not excluded from the Museumsquarter in Vienna. Not a stone's throw from the Leopold Gallery, where Gustav Klimt's "Death and Life" hangs beside the works of Kolo Moser, Egon Schiele, Herbert Ploberger & Ernst Nepo, is the Mixer Comics vending machine. These mini-comics are appreciated far and wide, well at least as far as Serbia, where they got a nice mention at the GRRR! Comics Festival. Then again, you have to pause and wonder about how the town of Pancevo, Serbia can host such a mind-boggling comic art fest, when here in the atavistic U.S.A. we are only capable of an obscenely commercial ComicCon in San Diego, and the perfunctory nod to indy comics at APE. (Okay, I know, it must have something to do with Pancevo being the hometown of Alexander Zograf!)
But in Vienna, they have a nice passageway dedicated to comics, with a strange mural on the arched ceiling.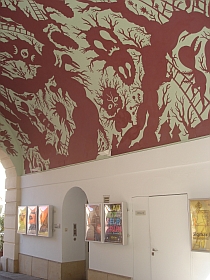 Anyway, in Vienna, I spend the majority of time in utter amazement in the painting galleries of Kunsthistorische Museum, so it was only by chance that I stumbled across a comic shop on the last day. This was a sort of funky shop, with piles of old digests like Perry Rhodan and El Pirata Negro. The prices were kind of high, so I only picked up a German reprint of Flash Gordon by Alex Raymond.
When I went to Germany, I assumed that I would have to make a pilgrimage to Modern Graphics, near Kottbusser Tor in Berlin. But as it turns out, while I was attending a conference at Ruhr-University in Bochum, Sophia found the greatest comic shop downtown, Mr. C Comics! Run by the erstwhile and erudite Michael Koch, the visit to Mr. C Comics completely erased the need to visit Modern Graphics…which is to say, what a great place!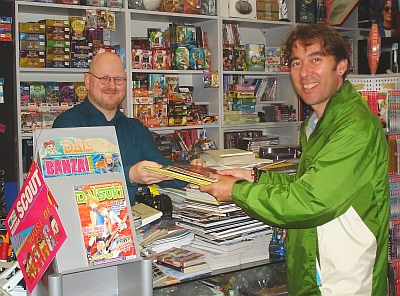 Not only was I a happy customer buying a stack of comics there, but I discovered some cool things, like Nick the Space Traveller from 1958, by Hansrudi Wascher and Schwurbel by Calle Claus, not to mention some German editions of Jim Woodring comics and some really sick issues of Kranke.
Having found all this great stuff, I was able to wander around other parts of Berlin, and found both great street art and another comic shop around Hackescher Market. So now another place to check out next time I'm in Berlin! Thanks, Mr. C!