Well I just returned from a terrific trip, including a visit to Osaka and Kyoto with my Dad. The Namba Dotonburi district is always fun, with its giant seafood sculpture signage. The Red Devil takoyaki grilled octopus ball shop is looking pretty fashionable, too!
In Japan there is no shortage of robots, and the one in Namba that amused me was the fat automaton struggling and hobbling with two cases of Asahi beer in front of the liquor store. This strikes me as a really good use of a robot - to portray a sweaty human carrying cases of beer, and none too steady on his feet!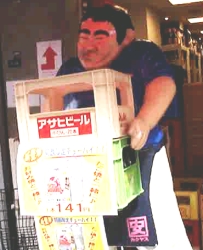 After swilling beer and munching seafood, you may want to stop for a rest at one of the fanciful hotels nearby, like the "International Hotel" with it's curious facade.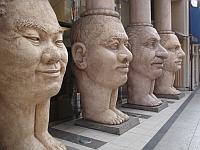 Of course Namba is not all nightlife… Down a nearby alley you will find people splashing water on the guardian figure of the Hozenji, which is completely covered in moss. [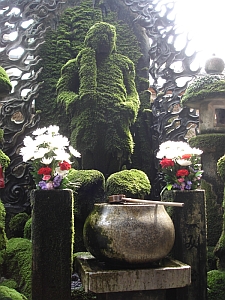 ](http://www.yunchtime.net/misc/osaka_hozenji_lg.jpg) And not far away is the National Bunraku Theatre, where we managed to catch the first 4 hours of the daily matinee.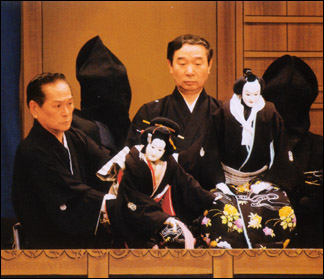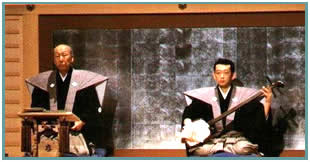 Bunraku puppet theatre exists somewhere in a supernatural space between Kabuki and Noh. The musical narration combined with plucking of the samisen transports the listener to a strange dimension where the puppeteers (who are standing in plain view), along with their assistants (inobtrusively poised under black hoods) all seem to vanish.
We paid a visit to the Shitennoji Temple, admiring the gardens, five storey pagoda, active Buddhist services, and two splendid guardians.
After days of slaking ourselves with ramen, udon, sushi and plenty of beer, we left by Haruka Express train to Kyoto. Naturally the first thing that greets you outside of Kyoto Station is a pillar surmounted by a rocket-booted Astroboy, soaring in front of a three-meter-tall super-high-definition video screen. Which was a harbinger of our discovery of the Kyoto International Manga Museum!
Manga, Manga, Manga! An entire three-storey school was converted into the Manga Museum, its hallways and classrooms packed with what has got to be the world's largest collection of manga under a single roof. Not only classic Japanese manga are here, but translations of comics from other countries, a cinema (where we watched some early stop-motion animation), and during the annual Manga Fest there are actual manga artists sketching away in various corners of the building. Totally amazing! (By the way, I must add that Astroboy is small beer compared to Prince Planet or Gigantor.)
Well, I suppose I should say that Kyoto has some sights beyond Manga that are worth seeing. Noteable are the temples along the Path of the Philosophy, which stretches from Ginkakuji southward to Nanzenji. Somehow we managed to start off at Nanzenji where we stumbled onto a movie set. Since the actors in their costumes were getting most of the attention, I managed to spend some time meditating in a small shrine with a beautiful courtyard. After Nanzenji we rode the bus up to Ginkakuji and started walking south along the aforementioned path.
After making our way along the path and visiting several Shinto shrines and Buddhist Temples, we finished up the day's journey at Eikando Zenrinji . This is a perfect conclusion to a day of Temple-hopping in Kyoto, because there is hardly anyplace more beautiful than Zenrinji. Pristine gardens, fantastic painted screens, and polished wood patios provide a place to rest within the temple complex. Among the screens are a set of fantastic tigers painted by 17th Century artist Tanyu Kano. One of the shrine rooms holds a world famous sideways-glancing-Amida figure. Behind the main hall is a well where dripping water sounds like the vibrations of a plucked koto. Eikando Zenrinji is a serene and wonderful place.
Far from the tranquility of the Buddhist temples, we also took in the final performance of a musical called Okuni 阿国, which was some kind manic collision between Kabuki history, Broadway camp, and theatre of the absurd. Mostly absurd. Imagine, if you will, some ghosts narrating a Josie and the Pussycats adventure, with cameo appearances by Richard Burton and Joel Gray, set at a frantic pace and with a mashup of choreography taken from either West Side Story or a suburban high school cheerleaders practice. Somehow the five curtain calls, standing ovation, flowers and teary farewells only made the four hours of madness more surreal. In any case, there is no place on earth you could witness anything so weird as the stage of Minamiza.
After the show and some wandering among the hordes of Geisha spotters in Gion, we found the alleyway full of upscale Kyoto eateries along the Kamogawa that runs south from the Kyotoshi Yakushomae subway station on the Tozai line. We dined here two nights in a row, getting lucky both times and enjoying some amazing Kyoto style roast duck, sukiyaki, bamboo shoot soup, tempura, and other treats.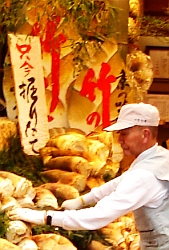 It is not cricket to visit Kyoto without a sidetrip to Nara. This we managed easily by catching the appropriate train from the Karasuma Oike subway platform. It was a splendid day, slightly misting, and early enough to miss some of the hordes of uniformed school children that began to arrive by countless tour buses as the day progressed. Deer wandered in the park, around the park, basically everywhere…and they were badly in need of a deer-dip, if you know what I mean. Nonetheless, Todaiji, temple of the great Buddha, was magnificent. As was the outlook from the nearby Sangetsudo.
Back in Kyoto, wandering around Gion, I found some amusing little cardboard buttons at an antique store. They must have seen me coming, because I shelled out 300 Yen for the little trinkets, just so I could scan them and post here:

You've got to love the crazy oni devil on the left, who seems to have strayed out of a Lafcadio Hearn story and into an E.C. comic along the way. Meanwhile, it is a surprise to see that Richard Nixon was actually a kabuki performer. Though strange that his symbol is a fist, not a peace sign… but then, that must have been long before the *I am not a crook* thing. If anybody knows who that kid on the mechanical horse is, please let me know!
We rounded off our fine dinners in Kyoto with a trip to the chain grill Izakaya Komakura. You can't complain to the spread that can be had for 3000 Yen. Back when I lived in Japan (1994-1995) the same food would have cost 10,000 Yen, easy!