In late August 2001, I boarded a plane at Hongqiao airport in Shanghai and flew to Urumqi. Riding in on the airport bus, I decided to jump off randomly in the center of the city and make my way by foot to the Hilton. Typically I would stay at a cheap guesthouse, but Dru Gladney said he was staying there that night and I wanted to talk to him about the possibility of creating a gazetteer of Uighur placenames.
What an interesting place Urumqi was! After checking in and failing to find Dru, I took a camera and a notebook and started wandering the streets. Walking south I eventually found a large botanical park, fronted by a very large nursery selling plants and clay pots of every description.
After wandering back through the center of the town to the Xinhua Bookstore, where I purchased my usual pile of maps and atlases, I decided to try a roast mutton stand that caught my eye earlier in the day. The place turned out to be well worth the extra hike, and I feasted on a platter of roast mutton and fresh baked Central Asian round-bread with sesame. The fellow outside carving the lamb carcasses and tending the grill was a good sport about letting me take his picture hard at work.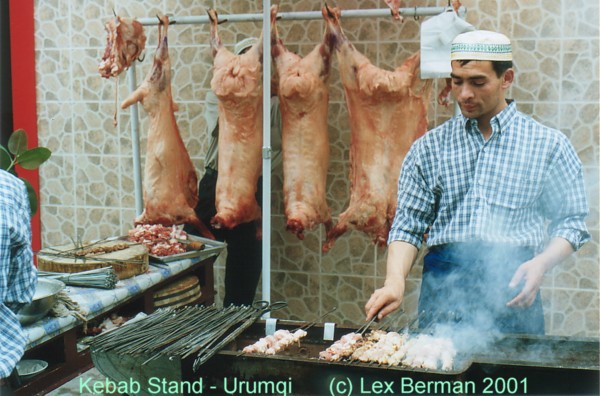 Later I did catch up with Dru and his colleague Wang Jianhua, from the Beijing Minorities University. The following day I did some serious wandering around Urumqi, enjoying the sights and sounds of the Uighur neighborhoods. My prize for the day was a cassette tape of what could only be called a modern Uighur band, playing guitars and traditional percussion instruments, called "Gypsy Renao" in English. (This tape lasted me many years, but sadly fell apart before I had the sense to get a digital copy archived.) The amusing thing about the tape, was that I went into a small local restaurant for dinner, about the time of early evening when I needed some fuel and to take the load off my worn out feet. The proprietors were almost thunderstruck that I appeared in their doorway. Apparently they had never had a foreign customer before, being such an out-of-the-way little dive. They valiantly tried to show me that they only had a menu in Chinese, but when I explained that Chinese was fine they brightened up and wiped down a table for me. No sooner had I seated myself then a whisper went back to the kitchen and everyone emerged, from cook to grandma to neighbors. They were all greeting me like a long lost relative. And then suddenly the waitress started to rifle through my bag. She seemed so friendly and natural about it, I didn't even complain and just watched her with curiosity as she examined my things. A cellphone, a notebook full of sketches, a bag of raisins, etc. But when she found the tape she cried out and laughed merrily and then immediately ripped it open and put it in the cassette player. What followed was basically a bunch of dancing and drinking and incredible merriment, punctuated by spells of sitting and tea drinking, and eventually me eating a plate of vegetables. I tell, you I regretted not having come to Xinjiang much sooner…in a previous lifetime for example!
Early the next morning I flew to Kashgar and made my way to the Seman Hotel. I took a shared room with a fellow from Ireland who had come to Kashgar for an emergency appendix removal. Why Kashgar? It was the cheapest place he could find in China when his appendix burst. And then, as he recuperated in the hotel, he fell in love with the city and repeatedly asked for medical extensions of his visa.
Not far from the hotel, down delightful alleyways full of knife vendors, cloth merchants, and fix-it shops, is the Yellow Mosque, which is also surrounded by a splendid labyrinthine bazaar. Neatly stacked were carafes for tea, round breads, gourds, rice bowls, knives, prayer beads and what have you, nicely draped by colorful awnings.
I discovered a talkative girl at the ceramics shop, and she quickly introduced me to her brothers, and aunts, and cousins, etc. They were all quite curious and charming and splendid people, and as it turned out the lot of them living on the income of selling a few teacups and plates every day. I had picked out two blue rice bowls, encrusted with red Arabic script, and when I asked to buy them I decided to get another half dozen more. A meaningless pittance, and an extra weight of breakables in my luggage…but somehow necessary all the same. But I do wish them well, and who could not, with such generous smiles for a stranger's camera.
My exploration of Kashgar included the Provincial Museum (where the pit latrine is NOT recommended to visit), as well as the main shopping district, the Apa Khoja Tomb and the Sunday Bazaar.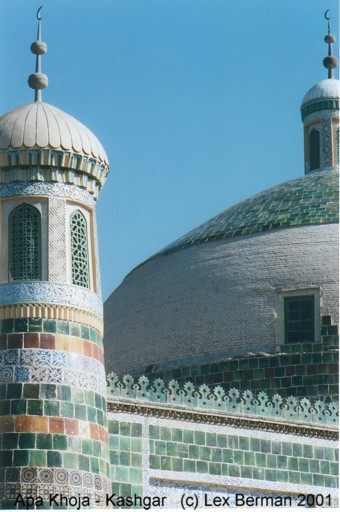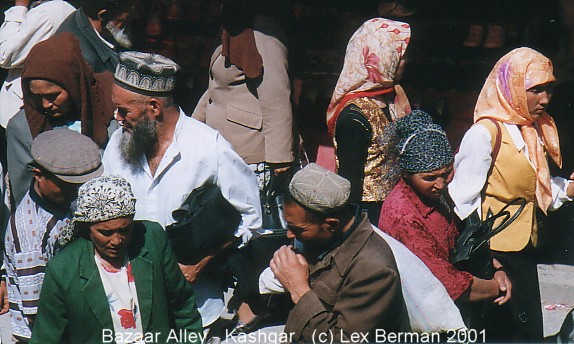 Highlights of the Bazaar were the preparation of mo-mo dumplings in front of the teahouse, where I sat on the second floor drinking tea and cracking pistachios.
And watching an elderly gentleman very carefully trying the fit of a pair of socks on his granddaughter's feet as she savored an iced treat of some sort.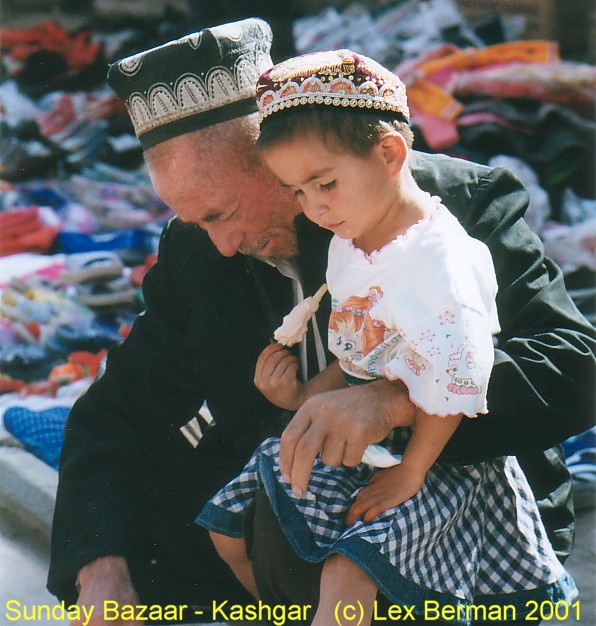 Not to mention the negotiations that went on over the quality and prices of some fruit.
The much sought after rustic feel of Kashgar was everywhere to be seen and experienced, from the donkey carts slowly taking up the entire alleyway, to the shops full of strangely shining furnitures. How often can we have an experience of a place that so closely matches the images evoked in books from long ago, like Macartney at Kashgar?
Still the unquestionable highlight of the trip was a trip to Tashkurgan County in a rented jeep. It took me three hours to find a jeep and a driver willing to take me there (despite the fact that the road was considered closed due to washouts). Then it took me three days to find two more travellers wiling to split the rental fee. We took off before dawn and made our way through the suburbs where playing children seemed to run laughing from beneath the very wheels of the speeding jeep. After four of five hours, with the sun up for over an hour, we stopped at a sort of truck stop, where an open metal wok of what looked like black jelly was slowly being heated up over a burning lump of soft coal. In the back, mo mo were just going into the steamer rack. Our driver indicated that this was the last solid food to be had before our objective: Karakul, the mystical lake at the foot of two of the world's mightiest peaks - Mount Mustagh and Mount Gongar. We waited close on forty minutes for the mo-mo to steam, at which point I was asked if we wanted to eat a bowl of soup with them, meaning the brackish sludge that had slowly started to bubble in the giant roadside wok. My fellow sojourners quickly declined, but after a few sniffs I decided to try my luck on what was no doubt a muttony stew, full of garlic and pepper. No sooner had I dipped the mo mo into that fatty residue and taken a bite did I discover that it was simply the most fantastic thing I'd ever tasted. Somehow the age, the oil, the pepper, the strands of dry and yet tender mutton made the plain mo mo into a feast for caravanseries of kings! Yum.
And after that many hours of passing through rocky canyons, alongside the sea of sand, then up around the massif of Gongar where glaciers were piled thicker than honey in baklava, until we emerged on the plateau of the Lake. Karakul! Only when you finally stand there, gazing up from the bored camels and donkeys standing next to a few shacks, can you possibly encompass such a vision with your own mind. A crystal blue lake, Karakul, raised half way to the sky, and fed by the collosal mountains on both sides. My two companions and I decided to hike away from the local touts, along the lake to the foothills at the south. Along the way we crossed some feeder streams, along with locals: yaks.
Then we perched on a slight outcrop facing the lake, and sliced open the Hami melon that I insisted on toting with me the entire way from the market of Kashgar. Sitting next to a small chorten, with sweet Hami juice running down our chins, the brilliant sun burning our skins to a crisp (we found out soon!), and a knife stuck into the remaining melon…we sat in silence, listening to the breeze blowing across the lake and watching the clouds sweep raggedly from peak to peak.
There is no word for that kind of paradise, but I nonetheless thank all the spirits of our planet earth that Karakul is still so damned difficult to visit!
On my way home, I packed up my bundle of knives and rice bowls, and wondered when I might ever be lucky enough to return to Xinjiang.