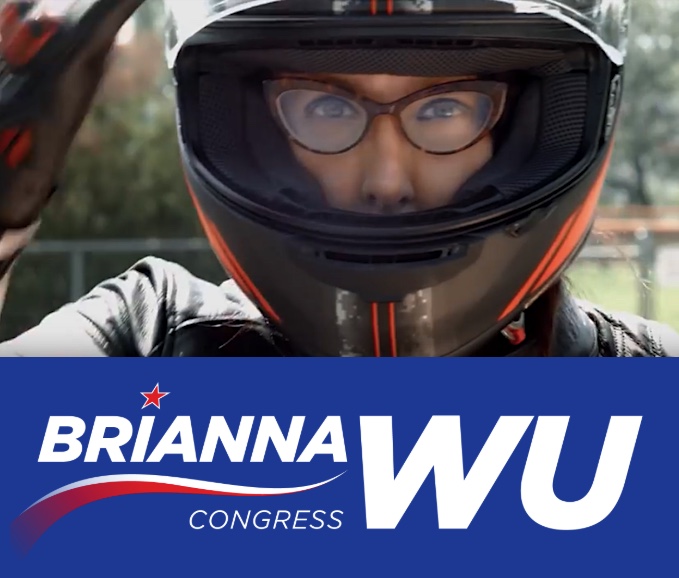 CLICK image to Watch Election Eve Campaign Video for Brianna Wu
It's almost primary election day here in Massachusetts, and voters in the urban 8th Congressional District, have a unique choice in this ever stranger year of 2018.
The incumbent has been in office since 1994, and is considered the most "socially conservative" member of the Massachusetts Democratic caucus in Washington.
But this is a new reality in the 8th District, we also have a woman running for office for the first time, who is really worth checking out! Brianna 'Spacekat' Wu stands 100% for women's reproductive rights, for net neutrality, for workers rights, for keeping families together, and for a better, more equitable America.
Think about it! You can help send a real human being to D.C. who is a self-motivated entrepreneur, technologist, programmer, and creator… Instead of the stinking trough of gobbling pigs that we have had for the last, oh, 150 years or so. (If you think I am kidding about that, just read two books by Matthew Josephson, The Robber Barons and The Politicos … then tell me what you think about it.)
I've been supporting Brianna since her nascent campaign was hatched, and her husband, Frank Wu, regaled me with the idea. (If you know Frank, regale is the proper verb here.) Now just WATCH THE CAMPAIGN VIDEO if you haven't yet!
And, though Brianna has been consistently treated like some interloper in the campaign, she Never gives up! And now she has released what I think is a kick ass election eve campaign video.
All, I can say is, when you go the voting booth on Tuesday, think about this video and who you want in Washington D.C. when you need to call your representative there.
Who you gonna call? Brianna Wu!