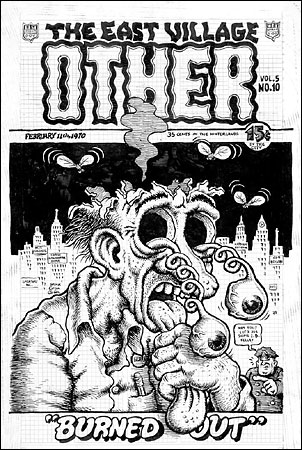 Ran over to Mass Art Paine Gallery (how apropos!) to see the R. Crumb Underground exhibit, which was written up recently in the Phoenix and the Globe. This exhibit kicked off two years ago at the Yerba Buena Center of the Arts, and has been making the rounds from city to city, and finally seems to have drifted into Boston on a Greyhound bus, clutching an old leather bag of 78s and sinsemilla buds.
What impressed me about the Mass Art show was that it lacked some of the color pieces and big sculptures featured at other venues and was almost exclusively focused on lush black and white original pen and ink drawings, together with a big cabinet full of Crumb's spool heads.
The exhibit opened with some early pages from Fritz the Cat, including a hilarious bathtub orgy scene, which was straight of the the Marx Brothers Night at the Opera. Nearby was one of the earliest Angelfood McSpade stories, and the original drawing of HEAD, a sort of infinitely fractalized series of pipes and wires shown in the cutaway view of a doper's head: a tinhorn amplifier for an ear, a camera and flashbulb for an eye, a dripping faucet for a nostril.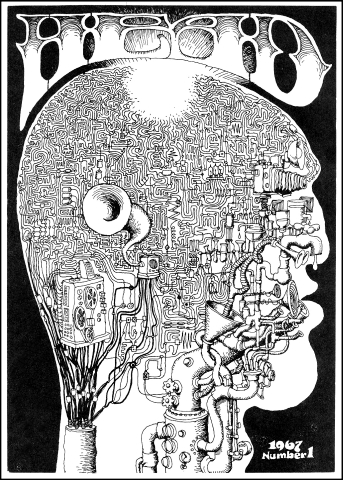 The care and precision of the inking on these works is amazing, and in some cases is combined with incredibly bold composition, such as the EVO cover shown above: Burned Out! This amazing piece was drawn and inked on a sheet of graph paper, a wild homage to Basil Wolverton, rendered in flawless black cross-hatching. Other EVO covers, and unpublished covers were arranged among whole pages of original comics, featuring the Hairy Hippies, Mr. Natural, occasional snoids and funny animals…but sadly lacking Flakey Foont.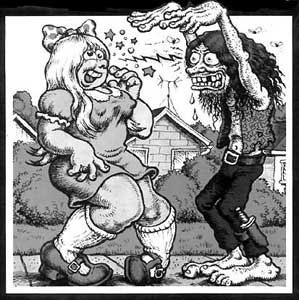 Some of the most fascinating pieces to gaze at were the Zap Comics Jam pages, on which the whole lot of mad artists drew bits and pieces together. With Crumb injecting his usual devil ladies, S. Clay Wilson providing pirates and demons, Victor Moscoso warping the page into perspectives of floating blobs and deranged mice, Gilbert Shelton doing his dopers and cops, Spain Rodriquez spanning a page with tightly integrated cubist patterns, Rick Griffin edging in some sharp edged electricity and bugs, while Brian Williams gets lost in the details. Amazing stuff! Another interesting collaboration was a page of Snappy Sammy Smoot, with some Crumb figures appearing with Jay Lynch's bizarre zoot-suited wierdo and Skip Williamson's grimacing caricatures.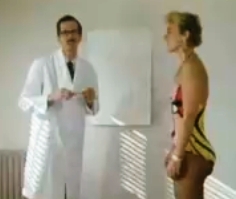 The crowning moment of the show is definitely the looped video of an old film taken of the entire Zap Comix gang as they collaborated on a jam called "Science Fiction Comics." The whole Zap crew listed in the previous paragraph, plus Harvey Kurtzman, are seen arriving, goofing around, drinking beer, chewing on turkey legs, flipping off the camera, gesturing at rows of buttons from elbow to wrist (yeah, S. Clay Wilson!), sketching original art, and pasting up the panels for camera ready art. This strange gem of historical footage has to be seen to be believed. If you ever wondered about the verisimilitude of the Fabulous Furry Freak Brothers, look no further than Gilbert Shelton hamming it up. One really hopes that this video will surface on YouTube someday, and not be lost to the art exhibit limbo that gobbled up the brilliant "Vanishing Point" video I saw at the Baja to Vancouver exhibit several years ago.
The sketches of R. Crumb, unlike many of the fine art we see in museums, does not hide our subconscious in depths of metaphorical bullshit. When he draws Jumping Jack Flash, he turns a sadistic cult leader into a maniacal, murdering necrophiliac…with nothing left to imagine. Sick? Wierd? Fetishistic? Yeah, well, if we were more honest about ourselves, then there would be more work like R. Crumb in the world. As it is, we have only him, a unique genius of pen and ink.