The amazing works of Charles Ashford Binger will be shown in the first major exhibition of his works in 45 years! "Charles Binger: A Pulp Life" will open at the La Luz de Jesus Gallery in Hollywood, CA on January 7th and run through the end of the month.
Binger's interesting career spanned from movie posters and portraits, to ground-breaking science fiction covers in the 1950s, and hard-boiled detective pulps. His style has been characterized as utilizing "impeccable composition, rendered in a painterly style over roughened textures." I would hasten to add that Binger was able to incorporate elements of cubism, realism, impressionism, and abstract expressionism into his works…often as not by combining them into a single canvas!
Consider, for example, the artist's fanciful depiction of Frederic Brown's
What Mad Universe (1954):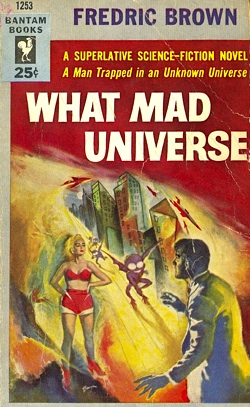 where a lightly washed illustration of some buildings look flattened into cubist shapes, surrounded by vivid splashes of yellow and red. Sprinting down the center of the composition are some ridiculous little demons, who seem to be flanking the figure of a very self-confident woman who is posed in a defiant stance and wearing some very strange bright red high-heels. The protagonist, a man in a suit-jacket stands, stunned and defenseless, in the foreground, as some kind of jet fighter battle rages over the twisting cityscape. You've got to love this cover for how simple it seems, and how masterfully it hangs together! Some scrubbed on orange pastels make the image looked like it is being torn apart.
For those who appreciate this sort of "rough textured" rendering, there are some wonderful surprises in store at the upcoming La Luz de Jesus exhibit! Take a close look at this marvelous portrait of Yul Brynner:
Man, Mitchell Hooks himself would've approved!
But there are some other gems in the show from Binger's paperback fiction days, for example the covers for Southwest (1952) and The Gentlemen (1957):
In the Southwest cover, a perfectly drawn gaucho is cleaning a pistol, but his red embroidered suit and yellow blanket are pure Hollywood, as is the brash tilt of his wide-brimmed hat. Rising up like smoke from fret-boards of his guitar, is the image of an astonishingly beautiful woman, who is gazing over her shoulder at the gaucho as he puffs a cigaret in front of a supercilious smile. This canvas is just brilliant! It combines kitsch, Freudian symbolism, superb handling of light and color, with an irresistible and magnetic self-mockery.
The Gentlemen, by contrast, plunges us into a some backwater jungle, where Binger has framed the image in dense foliage. Crisp and wavering leaves in the foreground fade into ragged shanks of tropical trees and grasses in the distance. One of the "Gentlemen" in question seems to be restraining the other, who has been savagely whipping a topless woman. Welts of broken skin where she has been beaten are the most vivid red in the painting, while the rest is handled with flawless and more subtle hues. The woman's chestnut brown hair is framed by the white petticoat wrinkled around her waist, and in the distance, the melting orange of the setting sun. The eerie quality of the bestial scene is heightened by the lack of drama in the features of the three figures, who seem distant, almost bored with the action. Most mysterious of all is the woman's face, completely shrouded in her own hair and revealing only the tiniest hint of wincing pain on her lips.
Although it's tempting to simply declare these paintings superior to their contemporaries of 1950s paperback covers, we have to consider that the competition was unbelievably talented: James Avati, Mitchell Hooks, Bob McGinnis, and a host of others were also cranking out fantastic illustrations at a mile a minute…
Still, I'm a great admirer of Charles Binger's pulp covers, with their defiant women and smirking men, and it's a great occasion for this exhibit to take place!
See also a post featuring more Science Fiction Art by Charles Binger.